Fillmore Auditorium | Denver, Colorado
As part of A Taste of Mayhem festival, you'll experience some of the most extreme, violent death metal sounds and subject matter ever committed to tape….Only the most hardcore metal fans can stand the pure overload of senses that is Cannibal Corpse, who are headlining the festival this year! The most brutal ear bashing sounds and lethal mosh pits you'll ever experience, and joining the infamous metal group is Ill Nino. Get your asses down to the Fillmore Auditorium on July 13th!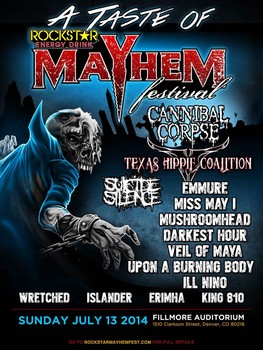 The Rockstar Energy Mayhem festival is a yearly festival that invites along some of the biggest rock and metal bands in the world, to perform at various venues across America. This years artists include headliners Cannibal Corpse with other bands: Texas Hippie, Suicide Silence, Emmure, Miss May I, MushroomHead and more! The mosh pits are the biggest you will ever see and you'll need real guts to get involved! It' going to be the hottest metal event of the year, GET ON IT!