Fillmore Auditorium | Denver, Colorado
Start counting stars as they are bound to shine brighter in this side of town as OneRepublic is coming your way for a much-awaited concert. The concert series dubbed as 'Alice in Winterland' features the incredible showmanship and 'nothing-but-the-hits' song line-up of OneRepublic. As the marquee lights up with the words "Alice in Winterland: OneRepublic" at Fillmore Auditorium Tuesday 4th December 2018", the race is on for tickets. Fans will surely be sprinting their way to secure the best seats in the house. And if you're not fast enough, this golden opportunity may swiftly pass you by. Be nimble, be quick, get those tickets now!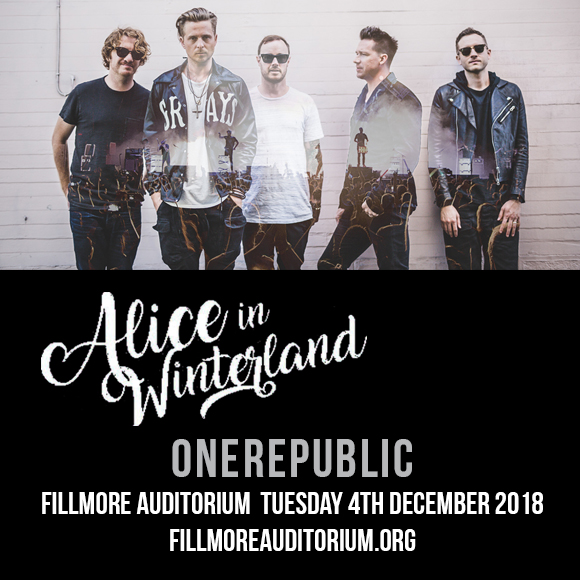 This holiday season, music fans are in for another winter treat. The annual Alice in Winterland concert series now brings you OneRepublic. Alice In Winterland events have popped up in different states and concert venues over the years, and it is nothing short of a star-studded music event. This year, crowds will keep counting starts as OneRepublic is the lone yet bright star that will shine all throughout the night with their magnificent hits — "Apologize", "Stop and Stare", "All the Right Moves", "Secrets", "Marchin On", "Good Life", "Counting Stars", are just some of the many hits that will amplify and electrify the crowd.
Founding members Ryan Tedder and Zach Filkins formed the band and released their music online unsigned through the music platform MySpace. Their first and one of their epic hits to date, "Apologize," remixed and recorded in 2006, was done in collaboration with Timbaland, and featured on Timbaland's album "Shock Value." In 2007, the original version of "Apologize" was released on their debut album, "Dreaming Out Loud". With Ryan Tedder's songwriting magic touch, the band propelled themselves to dizzying heights of success in both the commercial album sales and in live concert tours. The band is currently riding him with a Grammy nomination, a string of successful albums that have sold approximately over 10 million records worldwide.
OneRepublic's popularity is unquestionable. Their shows not only appeal to devout fans. Whether you're a massive fan or not, OneRepublic is one show that you and your friends would easily say 'yes' to, because a splendid time is indeed guaranteed for all. It's still not too late to apologize for missing the show. You could still count your lucky stars, tickets are still selling, so get one for yourself, and grab a bunch for your friends too! Get those tickets now!