Fillmore Auditorium | Denver, Colorado
Taking time out of his busy schedule with Blink 182, Alkaline Trio's Matt Skiba is back with his original band and they're coming to Fillmore Auditorium on Friday 12th October 2018! The prolific punk rockers are touring in support of their eagerly awaited ninth studio album, Is This Thing Cursed?, and it sounds like it's gonna be one hell of a show:
"Seems like ages since we've properly toured and we couldn't be more excited to get back out and play for the best fans a band could ask for," says Skiba in a press statement. "If people are half as psyched as we are then it's gonna be a party!"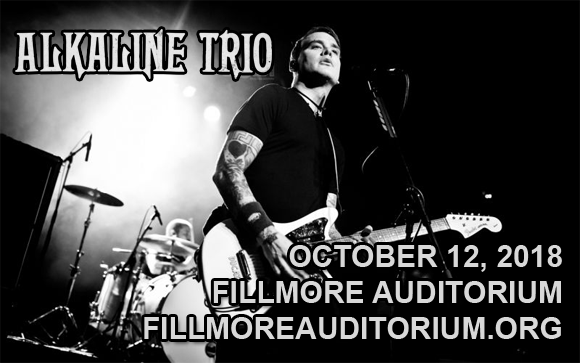 American punk rock band Alkaline Trio was formed in 1996 in McHenry, Illinois, and currently consists of guitarist, lead vocalist and co-found Matt Skiba, bassist and co-vocalist Dan Andriano, and drummer Derek Grant. The group's debut single, Sundials, was released in 1997 and the following year the band released a debut EP, For Your Lungs Only, and its debut album, Goddamnit. The group's breakthrough album, From Here to Infirmary (2001), launched the singles "Stupid Kid" and "Private Eye", and charted on the Billboard 200, as well as finding success in the UK. Their fourth studio album, Good Mourning, secured the group's mainstream popularity, debuting at number 20 on the Billboard 200. 2010's This Addiction, the band's seventh studio album, also fared well, reaching number 11 on the Billboard 200, and number one on the Rock, Independent, and Alternative Albums charts. Their ninth and most recent studio album, Is This Thing Cursed?, is due for release in 2018.