Fillmore Auditorium | Denver, Colorado
Listen up metalheads!! The legendary Swedish 5-piece Amon Amarth have just announced their all-new "Berserker," album and they're taking it on a HUGE world tour in 2019!! They'll be joined on the road by incredible support acts Arch Enemy and At The Gates – it's going to be an intense show at the Fillmore Auditorium on Friday 4th October 2019!! What are you waiting for?? Tickets are on sale NOW and disappearing fast – get 'em while they last!!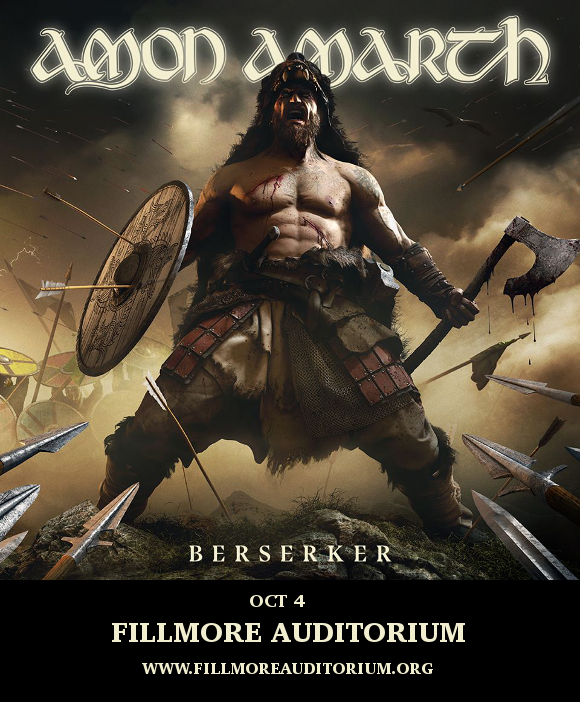 The new album has been preceded with the single "Raven's Flight." Produced, along with the rest of the album, by Jay Ruston of Anthrax and Stone Sour fame, the song is a throwback to the band's earliest death-metal style material. Fans are excited to see hints that the latest album will showcase some of Amon Amarth's heaviest music yet!!
"I think what we've done here is give ourselves the space to explore other parts of our musicality and who we are as a band," said Johan Hegg, the band's vocalist, in a press release surrounding the upcoming album and tour. "If you're content with where you're at, what's the point of continuing? We always want to come up with new ideas and find new ways of doing things and to create bigger and better shows and really try to improve every aspect of what the band is."
Are you ready to see Amon Amarth in their most evolved and best form yet?? Then make sure to grab those tickets quickly!!