Fillmore Auditorium | Denver, Colorado
Throw your hand rock signs to the air and prepare to be headbanging this December 9, as the death metal band Amon Amarth rock their way to the Fillmore Auditorium for an epic concert. The melodic death metal tunes of Amon Amarth will fill the entire Fillmore Auditorium this Friday evening, featuring the band's greatest hit songs and tracks from their latest album, "The Great Heathen Army." If you have been dreaming of experiencing the band's Viking Metal style, this is your chance to see the famous Swedish band. Scream at the top of your lungs as you sing to their massive hits such as "Twilight of the Thunder God," "Cry of the Blackbirds," "Guardians of Asgaard," and many more. The band will be joined by metal bands Carcass, Obituary, and Cattle Decapitation. Don't miss this concert at the famous Colorado venue. Grab your tickets now!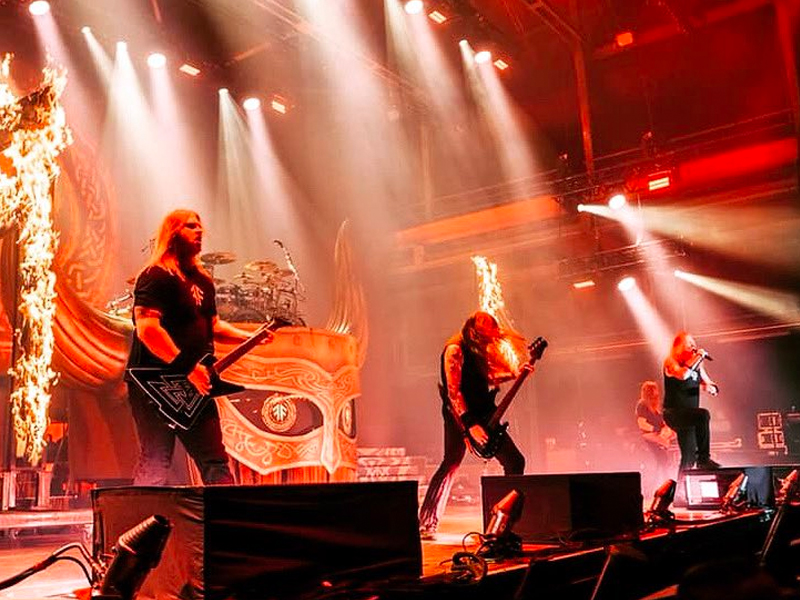 The melodic death metal band Amon Amarth is named after the Sindarin translation of Mount Doom, a fictional mountain in J.R.R. Tolkien's "The Lord of the Rings." They are known to play "Viking metal," a moniker given to them for always having the themes of Norse myth and its history in their songs. The band was created in 1992 and conceived from their former band called "Scum." They first recorded a demo after their formation called "Thor Arising." They did not release it because of the technical issues with the recordings. Finally, in 1994, they successfully released "Arrival of the Fimbul Winter," their second demo. After that, it took them more than a decade to gain mainstream success. It started with their sixth studio album, "With Oden on Our Side," when it climbed the Billboard chart in 2006. It was followed by the breakthrough album "Twilight of the Thunder God," reaching top-ten on year-end lists and gaining positive critique in 2008. The subsequent albums were relatively popular, and this year, they are releasing a new album called "The Great Heathen Army."
The band will go on a thrilling voyage to the US this fall. Death metal fans will be delighted as they will come with bands Carcass, Obituary, and Cattle Decapitation. Carcass is an English extreme metal band known for pioneering the gore grind genre (a mix of the genres grindcore and death metal). Obituary is an American death metal band considered significant in the creation of death metal music and one of the most successful bands of the genre. Cattle Decapitation is an American deathgrind band known for its songs tackling human abuse of animals and the environment. They will rock epically in many cities, such as in Denver, Colorado. They will be performing at the Fillmore Auditorium on Friday, December 9. Get tickets now!