Fillmore Auditorium | Denver, Colorado
Supergroup Angels and Airwaves are now flying at high altitudes across the concert route and will soon land at the main stage of the Fillmore Auditorium on Wednesday 6th October 2021. Co-founder, lead vocalist, and guitarist of Blink-182, Tom DeLonge, David Kennedy ex-member of Box Car Racer, Over My Dead Body, and Hazen Street, and drummer Ilan Rubin of Nine Inch Nails and Paramore, got together in 2005 to form Angels and Airwaves (stylized and abbreviated as ΛVΛ). The band has just released their sixth album 'LIFEFORMS', and will be showcased in this year's world tour. Many fans of Angels and Airwaves have been looking forward to yet another divine rock concert experience. Don't miss it, book your tickets now!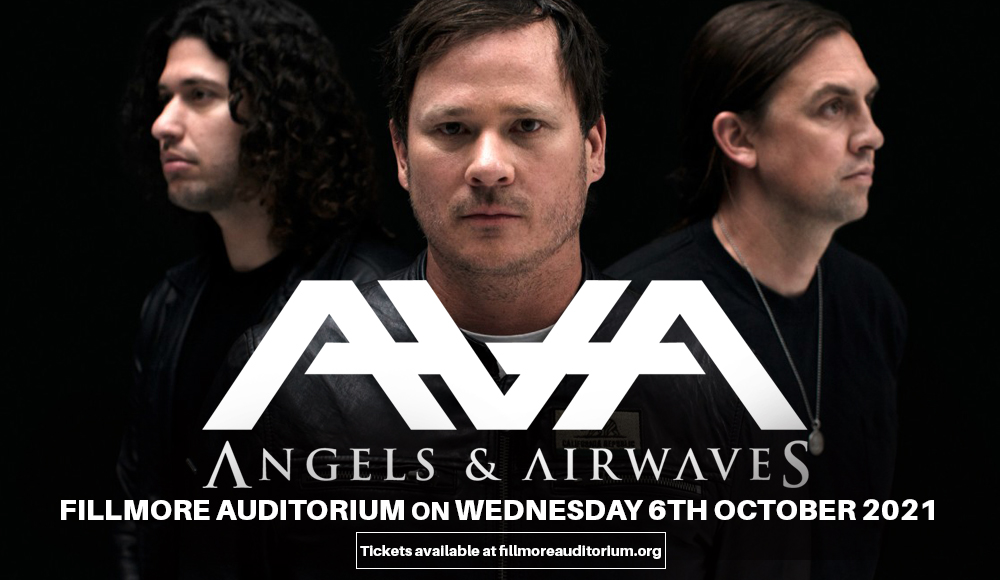 Angels and Airwaves (stylized and abbreviated as ΛVΛ) is an alternative rock band in the true sense of the word. They're a band that has taken music as an art form beyond the borders of recorded music, album covers, and media. The group has been described by lead singer and founding member Tom DeLonge as more than a band, but more accurately "an art project [that approaches] larger human themes and tackles them in different mediums," or simply "a multimedia project."
The marketing and media event surrounding the release of their sixth and latest album 'Lifeforms' is a case in point. As quoted from a press release: "In order for the announcement to fully match the heavy themes of the album, Angels & Airwaves partnered with Sent Into Space, a digital media agency specializing in the videography of Earth from near space. The agency launched a renewable hydrogen capsule, which will play LIFEFORMS in its entirety from the stratosphere. Album and tour information will also be displayed amid a stunning backdrop of planet Earth as the capsule orbits the blue planet."
Call it out of this world, but Angels and Airwaves' music are very much grounded into the pulse of alt-neo-prog rock fans. Their debut album 'We Don't Need to Whisper', released in 2006, peaked at No. 4 on the Billboard 200, and was certified gold by the RIAA.
Fans will definitely be stoked to hear 'Restless Souls' and 'Euphoria' live, as the first two lead singles off the new album; but will also be looking forward as the band gets on to the hits like "Anxiety," "The Adventure," "Surrender," "Saturday Love," "It Hurts," "Hallucinations," "The War," "Dry Your Eyes" and "Rebel Girl."
Rock to the high heavens with Angels and Airwaves at Fillmore Auditorium on Wednesday 6th October 2021. Lock in those tickets now!