Fillmore Auditorium | Denver, Colorado
The Altpress new reported that "Angels & Airwaves have moved several of their concerts to larger venues after receiving an "overwhelming demand" for tickets." That solid fanbase has always been part of the band and is powerful enough to move the high heavens to make room and for the band to cover more ground as the band embarks on this tour that has been seven years past since their last. As Angels & Airwaves dropped the announcement of their tour, fans were in a state of frenzy to get their hands on tickets to the show. Just by the neck of the woods, the band is taking its monumental stop at the Fillmore Auditorium on Tuesday 24th September 2019. As the excitement builds up, all the more reasons for you to make your move by clicking the 'buy tickets' button now!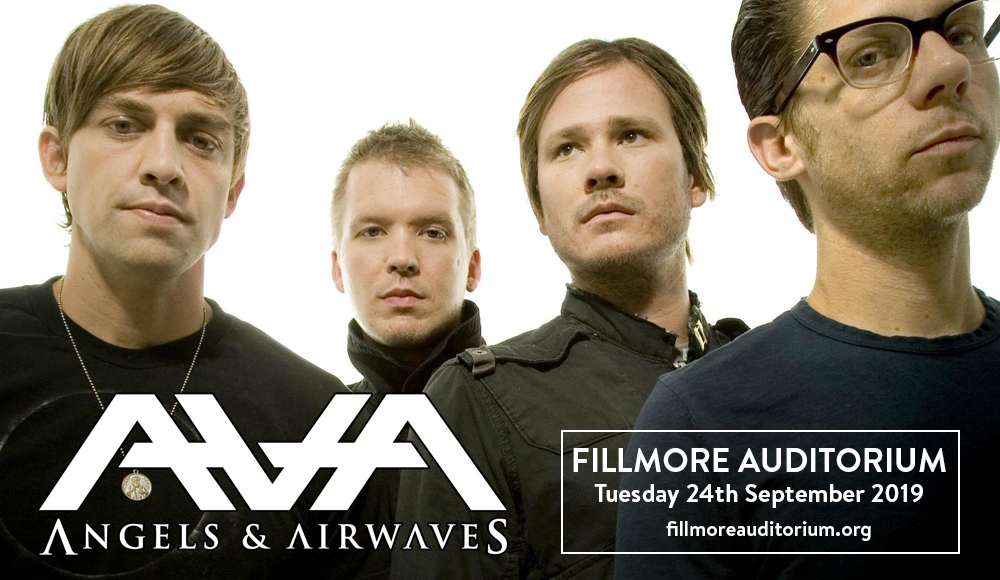 Shortly after tweeting and teasing, then unleashing their brand new single "Rebel Girl", Angels & Airwaves dropped the bomb that brought fans to a state of frenzy. The fans did not take the announcement of their upcoming tour sitting. They quickly moved and clamored for tickets. "Just wanted to take a quick second and say thank you so much for the insane response to the Angels & Airwaves song, 'Rebel Girl,' and to the sell out of the national tour, our first one in seven years," Tom DeLonge says. "I thought we would have a lot of amazing fans show up, but I never thought that it would sell out in 10 minutes." Reports have gone out that some shows have been moved to bigger venues to accomodate the sweeping demand for seats.
Founding member Tom DeLonge formed Angels & Airwaves after his former band Blink-182 went on hiatus in 2005. Apart from their alt-rock, space-rock music stylings, DeLonge describes the band as "an art project [that approaches] larger human themes and tackles them in different mediums (sic)", or simply "a multimedia project". After over a decade of existence, the band is stil flying high and still holds the music-meets-art-in-the-space-age approach. And this is much evident in their latest single. "'Rebel Girl' is a space-age love song that combines my enduring obsession for new wave, pop punk and anthemic rock 'n' roll music," DeLonge says. "As some of you might've heard, I recently took a brief minute to start up an aerospace company, so you never know—I may play this song from a satellite deep in space, beamed toward everyone's house viciously on repeat."
Meantime, as the band hits the stage, be ready to fly!