Fillmore Auditorium | Denver, Colorado
It's every metalhead's dream as the mighty Anthrax teams up with the epic Killswitch Engage for the KillThrax Tour, which comes to Fillmore Auditorium on Friday 28th April 2017!
Killswitch Engage singer Jesse Leach had this to say about the upcoming trek: "We are so stoked to tour with thrash legends ANTHRAX! We are sure this will bring a powerhouse of a live show with the combination of both bands. This is, hands down, the most excited we've been to tour alongside a band in a long while. This will be one you won't want to miss. KillThrax is coming for you!!!!"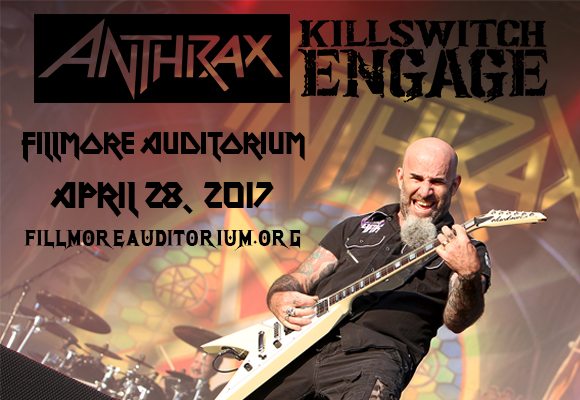 Anthrax was formed in New York City in 1981 by guitarist Scott Ian and bassist Dan Lilker, and is renowned as one of the "big four" thrash metal bands of the 1980s (alongside Metallica, Megadeth and Slayer). The band made their commercial breakthrough in 1987 with their third studio album Among the Living, which peaked at number 62 on the Billboard 200 and was certified gold by the Recording Industry Association of America (RIAA) and silver by the British Phonographic Industry (BPI). The following year, State of Euphoria, the band's fourth album, also hit the charts, peaking at 31 on the Billboard 200 and receiving gold certification in the US. This lead to major label interest, with Elektra offering the group a reported $10 million, five-album deal in 1993. With multiple lineup changes, including a number of different vocalists over the years (Neil Turbin, Joey Belladonna, Dan Nelson and John Bush), Anthrax has varied in sound and musical direction, but has retained a solid fan base. To date, the band has released eleven studio albums, five live albums, seven compilation albums, ten video albums, six EPs, twenty-six singles (including a collaboration with American hiphop group Public Enemy) and twenty-six music videos. They sold 2.5 million records in the United States from 1991 to 2004, with worldwide sales of 10 million.