Fillmore Auditorium | Denver, Colorado
The Psycho Thunder Tour is coming, and it's guaranteed to knock your socks off! This highly-anticipated outing features the illustrious Mongolian metal powerhouse, The Hu, and British metalcore icons, Asking Alexandria! These co-headliners will be conquering over 20 cities in the U.S. and Canada. And if you are the least bit updated on what's happening in the heavy metal scene, you'd know that these throat-singing Mongols are taking over the industry! The Hu is currently on tour to support their latest effort, Rumble of the Thunder. Meanwhile, Ben Bruce and his band of immensely talented bandits are here to debut some of their 2023 singles, rumored to be in their upcoming album (which has yet to be announced)! If you're keen on seeing the hottest modern metal bands on the scene, this is it, and you better not miss out because this unique tandem does not happen every day! So grab a ticket, and come down to the Fillmore Auditorium on Tuesday, 3rd October 2023 and let the foreigners show you how it's done in the meantime! They might just make you want to break your neck!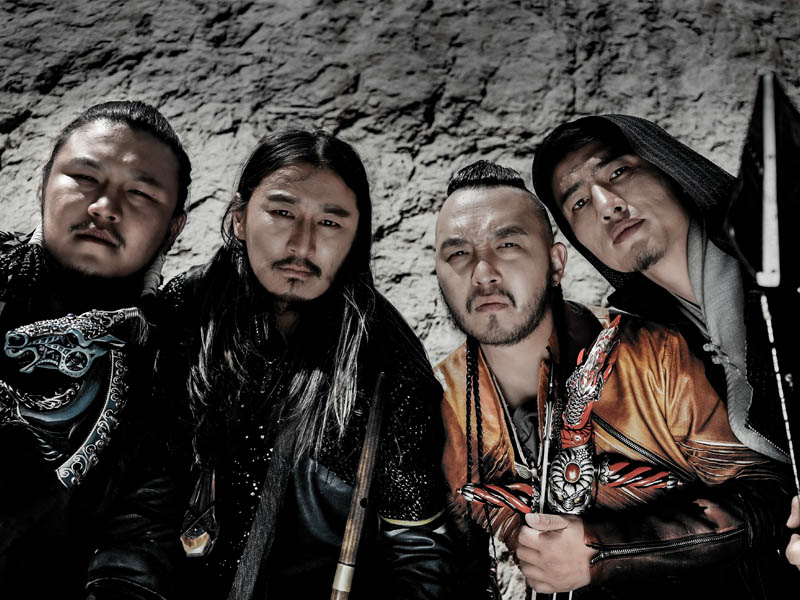 Who is The Hu? This is your chance to find out. The horsehead fiddle-slinging gems just made their home country's traditional music into a highly-enthralling heavy metal subgenre! The band innovatively infused heavy metal elements into their hunnu rock, consisting of throat singing and playing the morin khuur or tovshuur. Sure, it's a mouthful, but ultimately, it's just a unique type of folk metal you should check out.
The Hu went viral in 2018 upon releasing their music videos "Yuve Yuve Yu" and "Wolf Totem" on Youtube. The videos have collectively clocked in over 170 million views, which is growing daily. The single, "Yuve Yuve Yu," served as the band's breakout hit in North America. The song entered four Billboard charts, including peaking at number 4 on the Mainstream Rock Tracks and number 2 on the World Digital Songs. Over in Canada, the single performed moderately well, hitting number 49 on the rock chart. That same year, the band dropped their follow-up single, "Totem Pole," featuring Papa Roach singer Jacoby Shadix. The song ranked 1 on the Rock Digital Songs and World Songs chart. "Totem Pole" garnered such a high volume of streams that it was later certified gold in the U.S. and Canada. After the incredible success of their debut album, Te Gereg, The Hu now comes back with their latest effort, Rumber of Thunder. The band proudly dropped their lead single, "This is Mongol," which entered the Top 10 of two Billboard charts.
Last year, British metalcore outfit Asking Alexandria dropped their new EP, Never Gonna Learn, via Better Noise. The effort spawned the critically-acclaimed title track, plus a collaboration single, "New Devil," which featured In This Moment frontwoman Maria Brink. Aside from their EP, the band also belted out a slew of non-album singles, "Dark Void," "Psycho," and "Bad Blood." Since it has been a while since the band dropped a new album, these songs are rumored to be a precedent of their upcoming studio effort.
Their last album, See What's On the Inside, was released in 2021 through Betternosie. The record, which featured staples "Alone Again," "Faded Out," and the title track," made waves on the charts in the U.K., Germany, and Switzerland. About a decade ago, Asking Alexandria was one of the leading purveyors of electronic cores. They were a new breed of metalcore band that infused EDM-esque tracks over heavily distorted guitar riffs and death metal blast beats. At the time, heavy metal fans were going through a "love it or hate it" phase. But now, bands like Bad Omens, Bring Me the Horizon, and Falling in Reverse are heavy on samples, hip-hop, and trap tracks and are making a killing. We can pretty much say that bands like Asking Alexandria paved the way. But that discussion is saved for another day.
Catch The Hu and Asking Alexandria at the Fillmore Auditorium on Tuesday, 3rd October 2023! Tickets are now available!