Fillmore Auditorium | Denver, Colorado
Sultry singer-songwriter Banks comes to Fillmore Auditorium on Thursday 19th September 2019 for her first tour in two years, in support of her brand new third album, III! The critically acclaimed artist will be performing hot new material from the release, including recent hits "Gimme" and "Look What You're Doing to Me," which features Brooklyn pop project Francis and the Lights!
"I'm so excited to get back out there and experience this next chapter with all of you. I can't wait to see these songs that I have been working so hard on come to life," the alternative R&B singer said in a statement about the tour.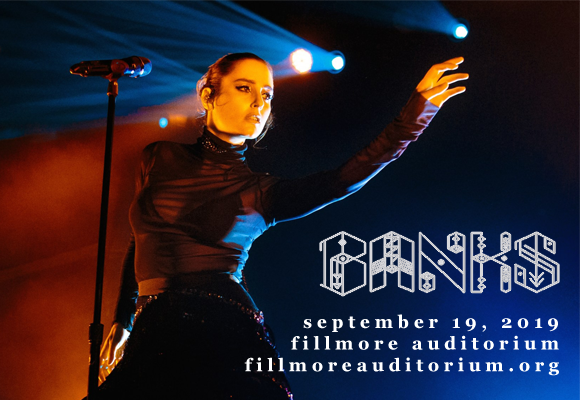 Alternative R&B singer-songwriter Banks first rose to prominence in 2013, when she was nominated for a Sound of… award by the BBC and a Brand New Nominee by MTV on the strength of her debut EP, Fall Over (2013). The following year, Shazam included her on its list of "2014 Acts to Watch" and she was named on the iTunes list of "New Artists for 2014". She released her critically acclaimed debut album, Goddess, in September 2014. The album launched the platinum-selling single "Beggin for Thread", and reached number 12 on the Billboard 200, also charting in the Top 20 in several other countries, including the UK, Australia, Germany, New Zealand and Sweden. Her second studio album, The Altar, was also a critical and commercial success, debuting at number 17 on the Billboard 200. Her third studio album, III, is released in 2019.