Fillmore Auditorium | Denver, Colorado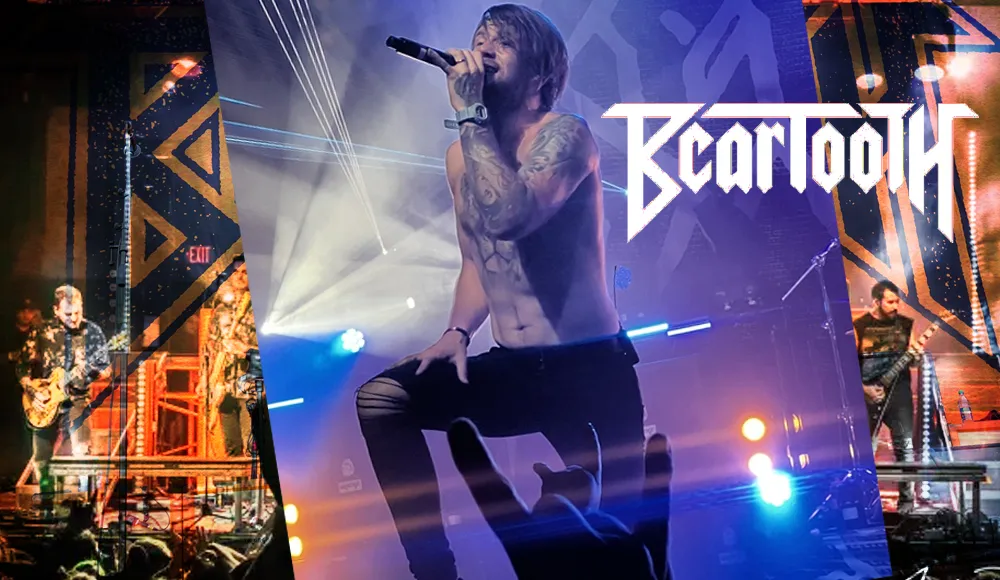 Beartooth is back to rock it all out! Infusing new elements of pop into their brand of deep and heavy rockin' anthems, they're taking happiness and optimism at the forefront of "The Surface". With a poppin' new album conquering the scene, the band is embarking on a massive North American trek, joined by awesome special guests, The Plot In You, Invent Animate, and Sleep Theory. With energies of self-love at the center of it all, the band teases exciting new takes on their biggest hits and new anthems live on stage. Their newest tour includes a special stop at Filmore Auditorium on Sunday, March 3 of a new year of rockin' concerts. You're definitely in for their signature cathartic and empowering moments at their live shows. "The Surface" includes the band's newest hits - "Riptide", "Sunshine!", "Might Love Myself", "The Better Me" featuring Hardy, and "Doubt Me". Rock it out in celebration with Beartooth, live on stage, by booking your tickets now.
Sharing a new poppin' light that rocks along their astounding brand of rock music, Beartooth is down to share happiness and empower its listeners on a new record centering around self-love. Taking the band's music to new heights, they hope to share exciting new memories with all of their fans. Beartooth's 2024 North American Tour will be joined by special guests, The Plot In You, Invent Animate, and Sleep Theory, altogether set to rock everyone's nights.
"I cannot wait to get back on tour and play a bunch of new songs for a bunch of amazing fans," frontman Caleb Shomo shared. "We get to take out three awesome bands doing great things for the scene. We're gonna play loud, hot, and fast, and serve up all the new stuff like you've never seen before."
Loud, hot, and fast. It's a promise! Known for their energetic and creative shows, everyone's in for a treat. This time around, as Shomo takes his pop roots to Beartooth's history and formula of rockin' anthems, exciting things are coming your way. They're surely a band to continue watching out for.
"It is a balancing act", Caleb shares in a conversation with Rock Sound. "It was incredibly important to me to represent where I'm at, in my life, and in my musical journey, and leaning into the pop side of my writing was very, very important."
Serving fans a fresh taste of the new Beartooth era with "Riptide" released back in 2022, their new fusion of musical influences is a welcome surprise. "I knew that song was the start of the new record. It was the first song I wrote after I had been in my new headspace," he shared.
In an interview with Rolling Stone, Caleb shared how he found the strength and the courage to bring something new to the table. He narrates how he's felt things he's never felt before, becoming driven and fearless to produce, taking happiness and optimism at the forefront of "The Surface". "It is a very revolutionary time for me in my life, and to be able to make a record during that has made this one of the most special records I ever make in my career," he said.
Kicking off a new live trek real soon, the band has high hopes that their new record will make it big, and become a staple favorite among their fans. Though it introduced brave changes to Beartooth's tried-and-tested formula, "The Surface" definitely hits the spot. "I honestly hope that, if any of our records really make it, I hope that this one does," he told Rolling Stone. "I feel completely at ease with what it's about, and the point of it, as well as with myself and the amount of work I've put in to get here."
Fearless and driven, bright days are ahead at Beartooth's rockin' wonderland. Don't miss out on their big surprises live on stage by booking your tickets now!