Fillmore Auditorium | Denver, Colorado
The period of hibernation ends as metalcore band Beartooth embarks on a massive attack across key cities and states for 'The Below Tour Part 2.' The second leg of their headline tour includes a spot at the Fillmore Auditorium on Wednesday 30th March 2022, with fellow metal bands Silverstein, The Devil Wears Prada & Erra joining them on the road. Beartooth's "Below" album debuted at No. 1 on multiple charts earlier this year, garnering a massive 50 million streams across music platforms. With fan faves and chart-topping hits like "In Between," "Hated," "The Lines," and "Sick of Me", Beartooth will definitely crank it up as they unleash the raw and explosive fury that has torn down live stages and keep fans screaming out for more. Save your bear claws from all the hassles of scoring tickets. All you need is your fingertip to click on that 'Get Tickets' link on this site to book your tickets now!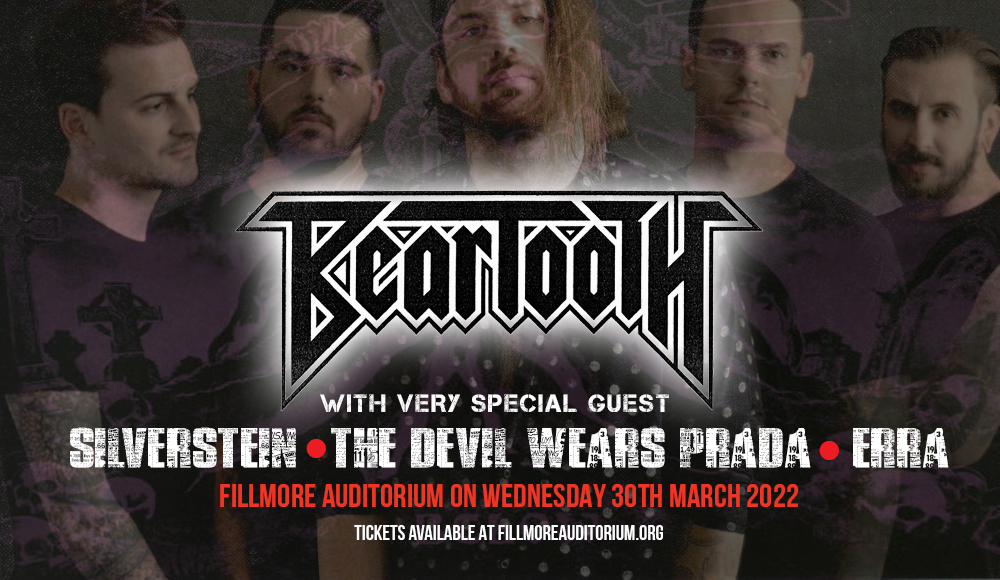 Beartoooth started out as a one-man band, a solo project venture by ex-Attack Attack! frontman Caleb Shomo. It began as a "musical exorcism", his defense mechanism of sorts in fighting off and taming the demons brought about by childhood trauma that carried on to adulthood resulting in debilitating depression and anxiety. From there, Beartooth evolved into a full band that debuted in 2014. They released their debut EP "Sick" on July 26, 2013, followed by their debut full-length album "Disgusting" on June 10, 2014.
With cathartic singalong anthems like "Fed Up," "Sick of Me," and "In Between", Beartooth became a highly in-demand and critically acclaimed touring band gracing music festivals world and tours with Slipknot, Bring Me The Horizon, and A Day To Remember. Rolling Stone introduced BEARTOOTH as one of 10 New Artists You Need To Know, describing their sound as "like a nervous breakdown, usually with enough optimism to push through." Shomo was also named one of Alternative Press' "15 best screamers in modern metalcore" in February 2014.
Beartooth, Silverstein, The Devil Wears Prada & Erra — this may be the loudest metal screamfest coming your way this 2022 concert season! Get your tickets now.