Fillmore Auditorium | Denver, Colorado
EVENT RESCHEDULED TO SATURDAY 26TH SEPTEMBER 2020. Originally Saturday 20th June 2020. All original tickets are still valid!
This is more than just a concert. This is a voice, music calling and crying out to those who struggle with mental illness. This is rock band Blue October sending a message of hope, of support, of encouragement –to "Get Back Up". This is your chance to get on your feet, stand, and lift up the silent crowd who are down and depressed. Be part of this movement as Blue October takes center stage at the Fillmore Auditorium on Saturday 20th June 2020. Celebrate life! Book your tickets now!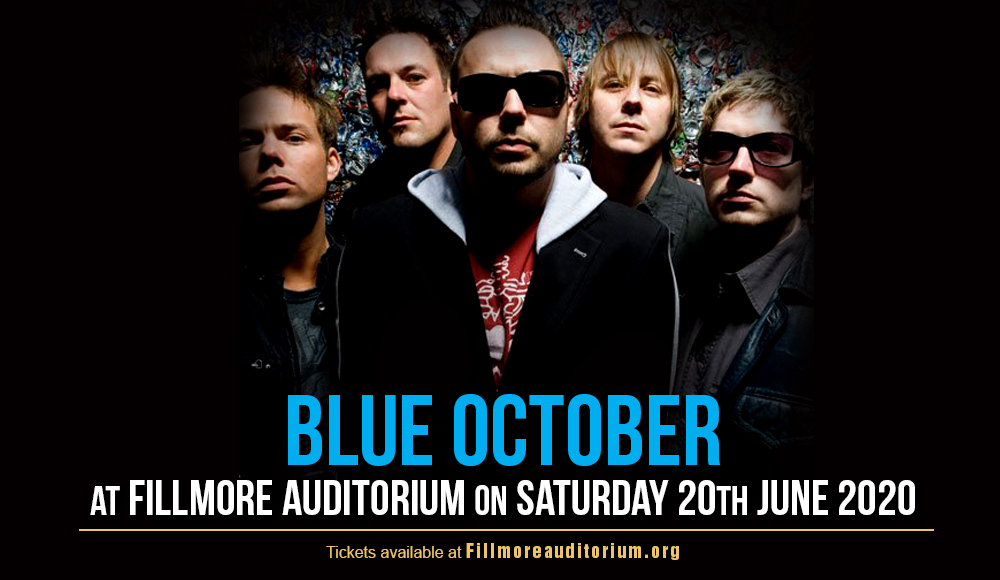 Blue October's Justin Furstenfeld Opens Up About 'Get Back Up', a documentary that delves into his struggle with mental illness and drugs and its impact on his band and loved ones. It chronicled and documented his early, the formation and the sweeping success of Blue October, but underneath it all was his with mental illness and addiction that was obviously destroying him and his relationships.
"It turned out not to be about me at all," says Furstenfeld. "It was about the people that my addiction affected: the band, their families, their children, our bassist [Matt Noveskey], who had a son with Down syndrome in the middle of it all, about marriages that were put back together, relationships that were put back together."
"This band was falling apart and discovered what it is to love life again and be with each other," says Furstenfeld, who created a soundtrack for the film with friend and musician Eric Holtz. "The success story is just living with each other and loving each other again. It's the most beautiful piece of work that I've ever been a part of."
Blue October was formed in 1995 and currently consists of Justin Furstenfeld (lead vocals, guitar), Jeremy Furstenfeld (drums, percussion), Ryan Delahoussaye (violin/viola, mandolin, piano, backing vocals), Matt Noveskey (bass guitar, backing vocals), and Will Knaak (lead guitar). Blue October's sensational success was buoyed up by their platinum singles "Hate Me" and "Into the Ocean", and they produced eleven top 40 singles over their past seven studio albums.
Be a part of one of rock music's finest moments. Don't miss it!