Fillmore Auditorium | Denver, Colorado
Heads up, America's hottest hip-hop group is headed to the Fillmore Auditorium on Saturday 15th April 2017!! Bone Thugs n' Harmony are on tour in support of their upcoming brand new, yet-to-be released album "E. 1999 Legends," one of their biggest projects today. Don't miss out on your chance to see the hard-hitting rap crew live – grab your tickets to see Bone Thugs n' Harmony live TODAY!! Hit the "Buy Tickets," button above to get yours – but hurry, they're going to disappear fast!!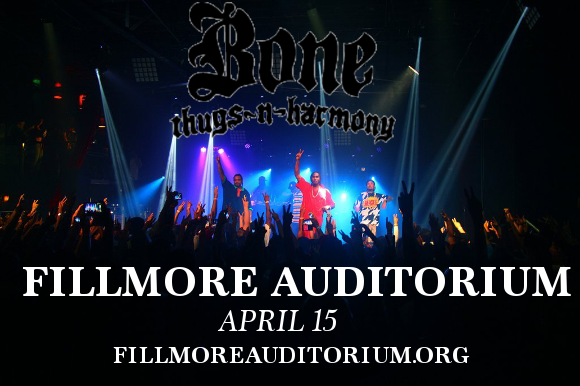 Formed in 1991 as a collective of independent artists Bizzy Bone, Wish Bone, Layzie Bone, Krayzie Bone and Flesh-N-Bone in order to draw attention to the group that would later carry through to their solo projects, Bone Thugs N' Harmony's plan worked like a dream, with every member going on to successful solo careers while fleshing the group's sound out, making it bigger and better with every passing year.
Now, the group are embarking upon their very last project, and possibly their last few tours, with "E.1999 Legends," their biggest and best work yet. According to Krayzie Bone, the group has "probably recorded up to 75-100 songs [so far]." The album is set to be a double-disk project, with the first being comprised purely of Bone Thugs n' Harmony material, with the second side being collaborative, featuring appearances from massive superstars including Drake, Mariah Carey, Phil Colins, Wiz Khalifa and many more!!
There's much excitement as we await further announcements. Tickets for this tour are hot in demand, so don't delay in securing your place to see Bone Thugs n' Harmony – while you still can!!!