Fillmore Auditorium | Denver, CO
Bone Thugs N Harmony. The name needs no fancy introduction. They've had an amazing career run during the 90s hip-hop scene with their G Funk rap-influenced style, along with their signature sound of blending vocal harmonies with rapid-fire rap. Not only that, they're a rare breed who has kept their thug image and street cred despite their singing a capella as part of their rap ditties. Long-time loyal fans, as well as a generation of followers, are thrilled to the bone upon hearing the news that Layzie Bone, Flesh-n-Bone, Bizzy Bone, Krayzie Bone, and Wish Bone have reunited and are back on the live stage. Yes, they're coming 'round the neck of the woods as Bone Thugs N Harmony are about to make their way to the Fillmore Auditorium on Saturday 14th December 2019. Word is up that fans are making a mad dash for tickets. Mark this date and book your tickets in a flash!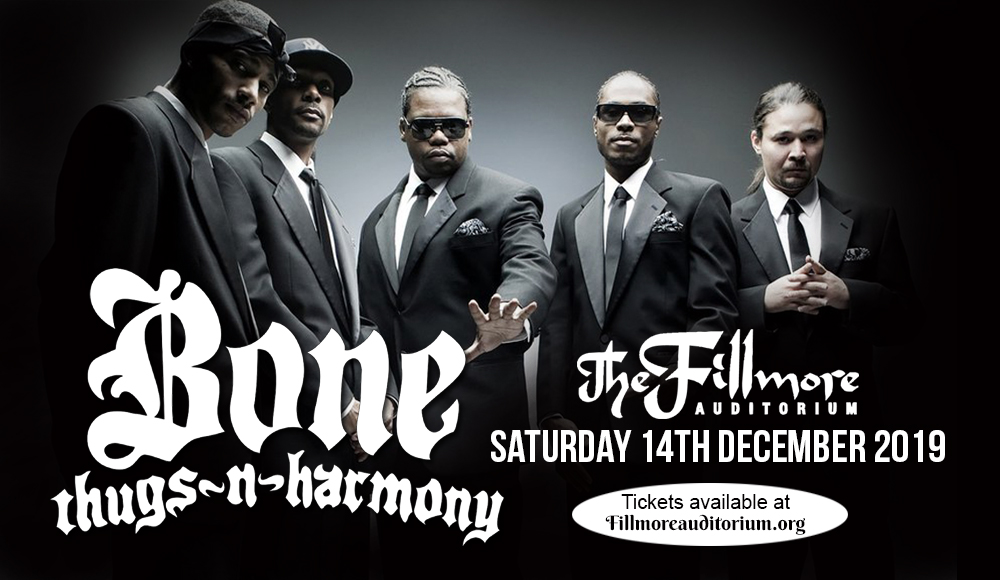 "See you at the crossroads…" Bone Thugs N Harmony seemed to have prophesized this particular point in their careers. At the peak of their success in the 90s, some members opted to go on hiatus to focus on solo careers. Over the years, there have been reunions for shows or for albums, but this time around, they're on a full-blown concert trek with roads leading to top-tier venues jam-packed with devoted fans.
Yet before all these happened, Bone Thugs N Harmony a group of five young "brothas" namely, Bizzy Bone, Wish Bone, Layzie Bone, Krayzie Bone, and Flesh-n-Bone, were all busy chasing the American Dream of becoming superstars one day. They spent months living on the street–broke, hungry and homeless, literally chasing rapper and record exec, NWA's Eazy-E, hounding him with phone calls, rapped for him on the phone as an audition, and stuck around for hours backstage in his concert.
Their resolve and hunger for success paid off as they were signed to a record deal, with their debut single, "Thuggish Ruggish Bone," selling more than 500,000 copies. In 1995, Bone Thugs N Harmony released their second album, E. 1999 Eternal, which included hits "1st of tha Month" and "East 1999". As a tribute to then-recently deceased Eazy-E, titled "Tha Crossroads", was not only a mammoth hit but bagged a Grammy award in 1997. Bone Thugs is the only group that has worked with 2Pac, Notorious B.I.G., Eazy-E, and Big Pun while they were still alive. They were listed by About.com at #12 on their list of the "25 Best Rap Groups of All Time", and MTV called them "the most melodic hip-hop group of all time."
Flashforward to 2019. Bone Thugs N Harmony are back somehow sayin' 'see you on the road'…to one of the biggest and most anticipated shows of the year! Better be there! Book your tickets now!