Fillmore Auditorium | Denver, Colorado
Wondering what's that refreshing sound filling the air in this side of town? The soothing "Caliville" sound can only come from this distinct source — BRETT YOUNG! His heartfelt California-meets-Nashville sound is blowing in the wind and is headed towards the direction of the Fillmore Auditorium, making landfall on Thursday 14th March 2019. Touted as the trending American country-pop hottie, Brett Young has a significant young following trailing behind his every move. No pun intended. If you're not quick on the move, this hot ticket might just escape your grip in no time. Clear your schedules on that day and get rid of the hump day. Get an energy boost from the sights and sounds of Brett Young, live!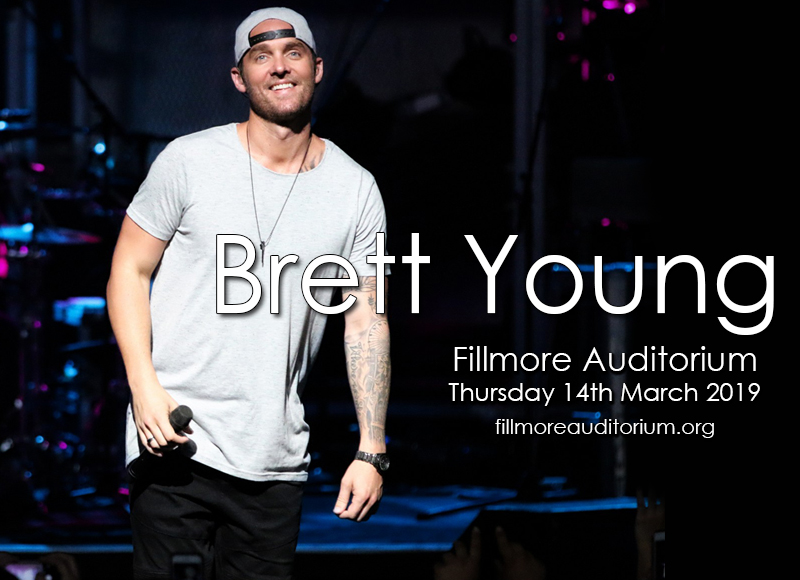 Brett Young spent his early life pursuing and chasing two dreams that meant so much to him–music and basketball. Clinching an Ole Miss baseball scholarship in 1999 was deal breaker that led him to pursue a professional baseball career. After sustaining an elbow injury, he heeded the call of music and began writing songs, as inspired by Gavin DeGraw.
"Everyone leaves a trail of 'almosts' and bittersweet memories behind on the road to 'the one'," says Brett. "It has happened to me on my journey—it happens to everyone – but I'm learning to use those moments now when I write music. I'm a hopeless romantic who feels everything, and that shows in my songs."
From California, he moved to Nashville and was signed to a major label. In February 2017 he released his debut album which gave him a homerun as it debuted at No. 2 on the U.S. Billboard Top Country Albums chart with an RIAA Gold certification. He scored back-to-back No. 1 debut singles, PLATINUM-certified "Sleep Without You," 3X PLATINUM-certified "In Case You Didn't Know" and PLATINUM-selling "Like I Loved You."
The press and critics see so much promise in his burgeoning career. Rolling Stone says Young is "destined for mass appeal", while the Washington Post declares "Young is in the fast lane to become one of country's breakout stars."