Fillmore Auditorium | Denver, Colorado
Metalcore heroes Bring Me the Horizon are coming to tear up the stage at Fillmore Auditorium on Tuesday 20th October! The British renegades are touring in support of their hotly anticipated recent album That's the Spirit, and will be providing fans with a night of energetic, powerful, anthemic rock – don't miss out!!!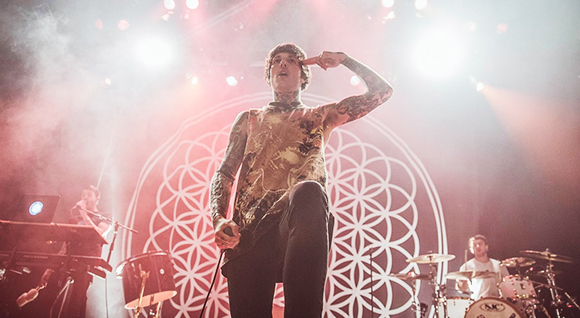 Formed in 2003, British metalcore band Bring Me the Horizon released their debut album Count Your Blessings in 2006. To promote their second album, Suicide Season, the band embarked on their first headline tour of the United States, as well as appearing in the 2008 Warped Tour. The album was released in September of that year in the United States on Epitaph and in Europe through Visible Noise. Following the 2009 departure of their guitarist, the group released Suicide Season: Cut Up!, a remixed version of Suicide Season featuring various musicians and producers from other projects including: Ben Weinman, Skrillex, L'Amour La Morgue, Utah Saints and Shawn Crahan. Having recruited new guitarist Jona Weinhofen, Bring Me the Horizon released their third album entitled There Is a Hell, Believe Me I've Seen It. There Is a Heaven, Let's Keep It a Secret., in October 2010. The album debuted at number 17 on the Billboard 200 in the US, number 13 on the UK Album Chart, and number 1 on the Australian Albums Chart, the UK Rock Chart and the UK Indie Chart. 2013 saw another line up change as Jordan Fish, keyboardist and session musician to the band was announced as a full member and then later on in the month Jona Weinhofen left the band. 2013 also saw the release of their fourth album, Sempiternal. The band's fifth studio album, entitled That's the Spirit, was released on 11 September 2015.