Fillmore Auditorium | Denver, Colorado
Have you checked-out the HardDrive Live Tour yet?  This year's line-up impacts as if a bullet has just gone through your head and ricocheted out from your heart.  Brace yourselves for this bloody explosion as these heavy metal warriors will be marching their way to Denver, Colorado, to thrash the stage of the Fillmore Auditorium on the 12th of April 2013.  Headlining the 2013 HardDrive Live tour are:  Bullet For My Valentine and Halestorm, supported by Young Guns and Stars In Stereo.  Show starts at 6:00 pm.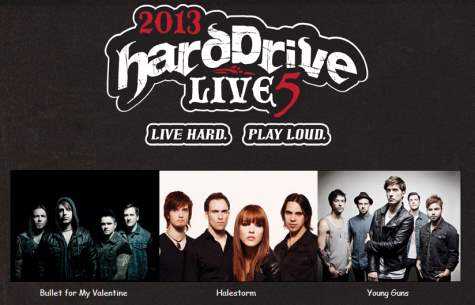 For five years in a row, the HardDrive Live Tour has been consistently spreading mayhem and pandemonium across America with its heavy metal line-up.  This year is no exception.
"We're super stoked to be touring America again. We're going to be bringing the big hits and big guns. With the new album ('Temper Temper'), our fourth, we've got loads of songs to choose from. Thanks to HardDrive, sky's the limit in the States!", says  Bullet for My Valentine's lead vocalist and frontman, Matt Tuck.    Indeed, expect a no-holds-barred performance from Welsh heavy metal band, Bullet For My Valentine. They debuted in the UK and the US in 2005 and 2006, respectively, yet it was their second studio album, Scream Aim Fire,  of 2008 that impacted at number 4 on  Billboard 200.   In 2010, their third album, Fever, debuted at number three on the Billboard 200.  Their winning streak continued at the Kerrang! Awards , being the most-successful act in the category of "Best British Band" with three wins.  The band has sold over over 3,000,000 albums worldwide, with one million albums sold  in the United States alone.
Fresh from their recent Grammy win for Best Hard Rock/Metal Performance for the song "Love Bites (So Do I), from their second album The Strange Case Of…, there is no calm after the storm.  Halestorm is still whipping-up and blowing out gusty metal riffs as they take their show on the road.   "HardDrive has been such a huge part of us breaking in the last couple of years. The show has always supported us and what we do. We can't wait to get back on the road in front of real rock fans with our friends in Bullet, Young Guns and Stars in Stereo. It's going to be a great time.", Halestorm's Lzzy Hale gushes.
It's the moshpit or die!!!   Bullet For My Valentine, Halestorm & Young Guns — they're sound loaded and going for the kill.  Make sure you're right on the spot where all the action happens. Don't dare miss it, get your tickets now!