Fillmore Auditorium | Denver, Colorado
Starting April 11 in Seattle, Coheed and Cambria together with support act The Dear Hunter will embark upon a 2017 tour that will see them land in Fillmore Auditorium on Sunday 23rd April. This gig will feature the band playing their third album, Good Apollo, I'm Burning Star IV from start to finish, making it a must-see event for any fan!!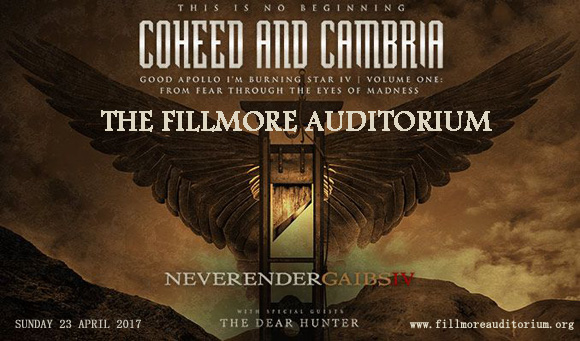 Even for a prog band, Coheed and Cambria take the concept in concept album to a whole new level. Almost their entire discography is constructed of albums and songs based around the science fiction works "Armory Wars" by Claudio Sanchez (vocals, guitars and keyboards). The storyline has been made into a comic book series in addition to a full length graphic novel. Although their most recent album was a departure from the concept structure, Coheed and Cambria return to their roots to delight their fans with music from their hit album album Good Apollo, together with the release of a new comic book series based on the same album.
The Dear Hunter began in Providence, Rhode Island, as a side project of Casey Crescenzo, originally from post-hardcore band The Receiving End Of Sirens. Ideal tour partners for Coheed and Cambria, the tooy take the concept album seriously, having in 2016 finished the 5th album, or "act," in their storyline centred around the birth, life, and death of a character named The Dear Hunter, alongside the beginnings of of another album arc related to the colour spectrum and the colours black and white, revealing a dogged ambition and determination that reveals itself in the intense emotional complexity of their music.
For science fiction and comic book lovers and prog metal fans alike, this is not a show to be missed!