Fillmore Auditorium | Denver, Colorado
Sci-fi loving prog rockers Coheed and Cambria are heading out on tour this summer, and they're bring special guests Mastodon with them for a co-headlining show that will melt your face and blow your mind! Coming to Fillmore Auditorium on Wednesday 19th June 2019, Coheed and Cambria will be performing from their most recent album, Unheavenly Creatures, and Mastodon will be performing their fourth studio album, A Crack in the Skye, in full, celebrating ten years since its release! Joining them in support is Every Time I Die!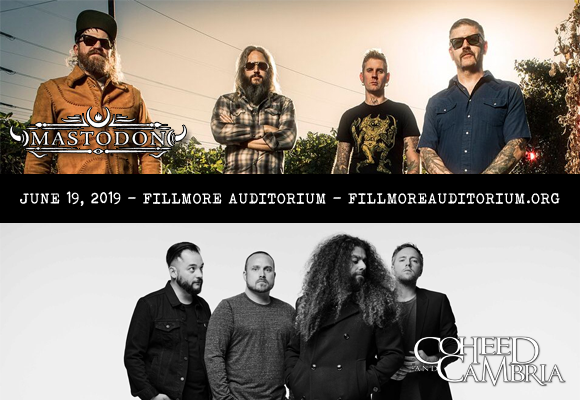 Formed in Nyack, New York in 1995, American progressive rock band Coheed and Cambria are best known for the science fiction concept albums, four of which have reached the top ten of the Billboard 200. The albums follow the storyline of a series written by lead singer, guitarist and keyboardist Claudio Sanchez called the Amory Wars, which has also been transcribed into a series of comic books, as well as a full-length novel. The band has released nine studio albums since its inception, their most recent being 2018's Vaxis – Act I: The Unheavenly Creatures.