Fillmore Auditorium | Denver, Colorado
The loveable alt-pop act singing 'I just wanna taste your Chapstick,' is back to take fans on a ride aboard a new tour! The tour takes a pitstop at Filmore Auditorium on Saturday, July 23, 2022. Their energetic vibe and magnetic lyrics got fans hooked on their best singles "I Don't Wanna Dance", "Chapstick", and "Talk Too Much", and listeners keep on craving more from the cheeky trio. The band's fourth album, "Uncanny Valley", coming out by March 25th, is set to take listeners on an uncanny landscape with COIN's signature sonic beats and thoughtful lyrics. Book your tickets now and catch COIN perform new songs, their best hits, taking you on an uncanny night of great music with the crowd.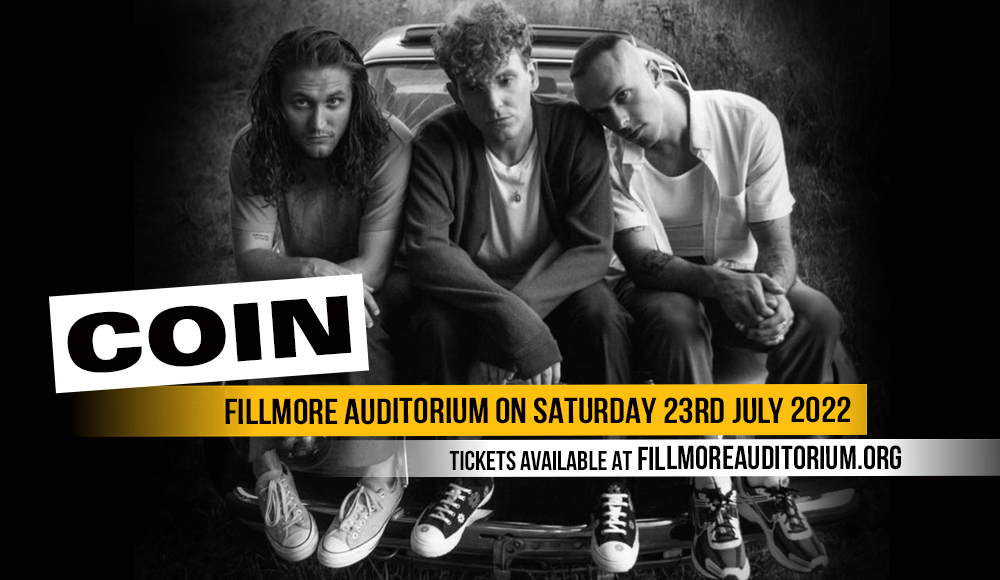 Hailing from Nashville, borne by music theory class seatmates in 2012, COIN's present members include lead vocalist Chase Lawrence, drummer Ryan Winnen, and Joe Memmel on lead guitar. After posting free songs recorded at school on the internet, COIN amassed a loyal following from their local gigs.
By 2015, COIN found its stepping stone to greater heights with the release of "Run" from their debut self-titled album, where Billboard expressed them as "new wave crash-course survivors," breaking the "Nashville mold", signifying COIN as a fresh take from Nashville's firm country roots.
2016's breakout single, "Talk Too Much", propelled the band to success, the single still being their most-streamed track on Spotify. Fast-forward to 2021, the band dropped "Chapstick" – their first #1 on the Adult Alternative Airplay chart.
Other notable hits and crowd-favorite track by the cheeky trio include "Malbu 1992", "Cutie", and "Crash My Car".
As COIN takes on a new era as "the last gasp of 2010s alternative pop" as described by STEREOGUM, "The album is done and it is coming!! We're so thrilled and have never been more proud of anything. It says everything we've ever wanted to say" said COIN in an interview with Ones To Watch.
Amidst the indie alt-pop scene, COIN has taken leaps to be where they are right now. Four albums, and thousands of loyal fans, listeners can't get enough of COIN's signature beats and magnetic lyrical deliveries that all in all bring people higher energy at shows.
Uncanny Valley is out by March 25th, so listen up, mark COIN's alluring lyrics to heart, and get ready to sing out loud at their show at Filmore Auditorium on the 23rd of July 2022. Book those tickets now!