Fillmore Auditorium | Denver, Colorado
If you want alternative, DevotchKa is devoid from all the hype and frills. Alternative music at its best, alterntive showmanship at its finest. Their eclectic sound is a blend of gypsy punk, dark cabaret, indie folk rock. But no label could aptly describe the emotive sound that could hit hard and cut through your soul. DevotchKa should be experienced. This is your chance. Don't miss them as they head down to the Fillmore Auditorium on Saturday 14th February 2015.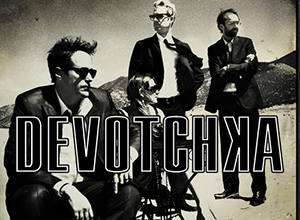 The band's intriguing appeal does not stop with the fact that their career started as a backing band for burlesque shows, and touring with burlesque queen Dita von Teese. The band members are not your typical guitar-bass-drums and vocals. Nick Urata on lead vocals, plays theremin, guitar, bouzouki, piano, and trumpet. Tom Hagerman plays violin, accordion, and piano. Jeanie Schroder is also a vocalist and plays sousaphone, double bass, and flute; while Shawn King plays percussion, accordion, organ, and trumpet.
Their independent album releases and nationwide gigs and music festival performances earned them a growing underground following. In 2006, their worldwide breakout exposure came from their soundtrack production work and recording for the movie "Little Miss Sunshine". This Academy Award nominated film also gave the band their first ever Grammy nomination for Best Compilation Soundtrack.
DevotchKa are known for their hits "How It Ends" , "The Winner Is", "New World", "Head Honcho" and many more!
Lofty taglines and pitches would not work in trying to describe a DevotchKa concert. This is the kind of show where you just go ahead, buy a ticket, and experience the music for what it is.