Fillmore Auditorium | Denver, Colorado
COMING LIVE to Fillmore Auditorium on Sunday 25th November 2018 is the one and only legendary singer-songwriter – Elvis Costello and you can grab this once in a lifetime opportunity to be there! Tickets are available, but they won't be for long – so don't miss yours… as he takes to the road on his North American tour, this coming Fall, each and every one of his fans is getting excited for the main event! If you love his music then be sure to be a part of this special night…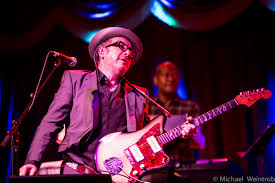 "Costello's career is and has always been a versatile, moving target. From soulful ballads like She and an acoustic rendition of Oliver's Army, to moments designed to make us wonder "What did that guitar ever do to you?", he and the Imposters crafted two hours so tasteful that they had a sold-out, tame theatre event brought to an eventual complete (and I did check) roaring standing ovation."
As an all round talented guy, Declan Patrick MacManus AKA Elvis Costello has made a successful career for himself, as he delve straight into music, songwriting and composing as well as producing, becoming and author and actor… not many people can carry it off but Elvis Costello has proven time and time again that he has what it takes!
Kick starting himself as part of London's pub rock scene during the 70's and very much involved in the British punk movements, Costello released his debut album, My Aim Is True and took to the live stages with his incredible band.. By 1978, his career was on the up with recognition from Rolling Stone and more, he has transformed himself from the underground scenes to the mainstream, worldwide status that we all know him to be today. His 1979 release, Armed Forces included his highest-charting single "Oliver's Army" (number 2 in the UK). And not one, not two but three of his first studio records ALL were featured in Rolling Stones 500 Greatest Albums of All Time – a triumph for any musician and yet another clear sign that he was going to be a long-standing artist on the music scene for so many more years to come! And they were right, Elvis Costello has won endless awards such as the Grammy Award, Brit Award and more. As well as being inducted into the Rock and Roll Hall of Fame in 2003.