Fillmore Auditorium | Denver, Colorado
It's a hip hop lover's dream as iconic Golden Age duo Eric B. & Rakim tear up the stage at Fillmore Auditorium on Thursday 26th April 2018! "It's time to show you," the duo wrote in a tweet announcing the shows, and considering this summer stint will be their first full tour in 25 years, you know that this legendary twosome will bring it! Don't miss your chance to see one of rap's greatest double-acts live!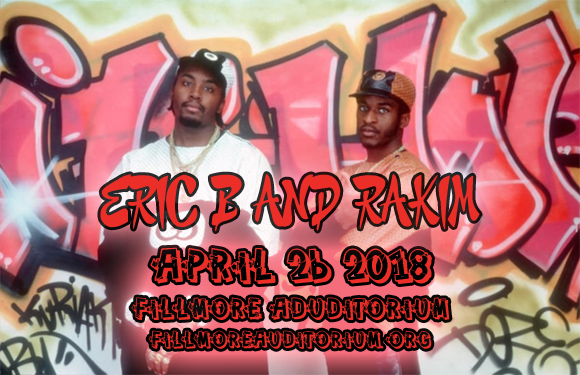 One of the golden age of hip hop's most celebrated MC/DJ duos, Eric B. & Rakim burst onto the scene in 1986 with the release of their single "Eric B. is President". This was swiftly followed by the release of the duo's debut album, Paid In Full, which leaped straight into the Top Ten on the US Billboard Top R&B/Hip-Hop Albums chart. A highly influential record in the world of hip hop, Paid In Full paved the way for 1988's Follow the Leader, 1990's Let the Rhythm Hit 'Em (also a Top Ten album) and Don't Sweat the Technique (1992). After Don't Sweat the Technique, the duo disbanded and both parties went on to release solo albums. In 2016, after a 23-year hiatus, it was confirmed the Eric B. and Rakim would be reforming as a duo, and their first reunion concert was held at the Apollo Theater in New York City on July 7, 2017.