Fillmore Auditorium | Denver, CO
On Wednesday 20th September 2023, Fit For A King is tearing up the stage at Fillmore Auditorium. With heart pounding energy and loud metalcore riffs, Fit For A King is sure to get the crowd going! Get ready for the kind of performance that gets the crowd moving from one of the most dynamic bands in modern metalcore. Since their formation in 2007, Fit For A King has been shaking up the scene with a relentless blend of heavy riffs, brutal breakdowns, and melodic choruses. Don't miss your chance to headband the night away at the best show in Denver. As Fit For A King takes over Fillmore Auditorium, you can expect a wild show that'll leave you and your friends buzzing for days. buy your tickets now, because this is one show you don't want to miss out on. Wait too long and you'll be the only one left out of the conversation when everyone's raving about last night!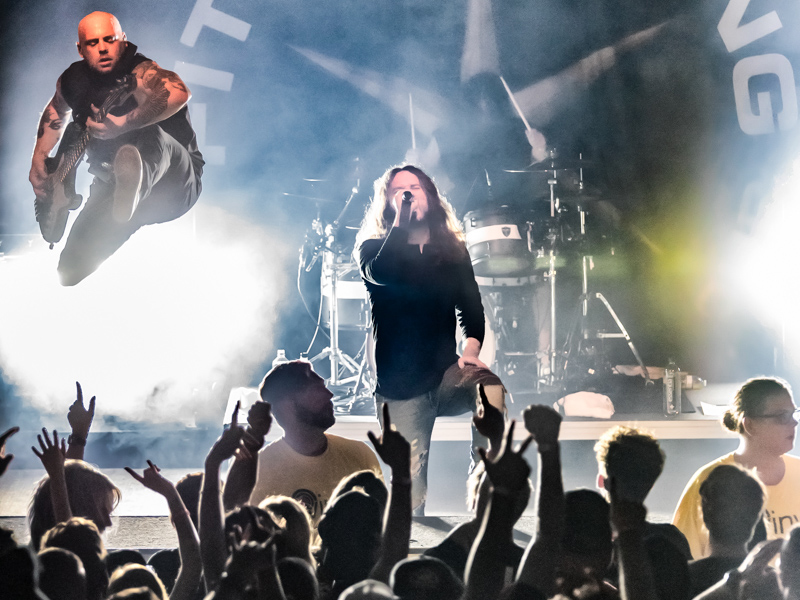 Fit For A King (FFAK), is an American metalcore band originating in Tyler, Texas. When they come to Fillmore Auditorium on Wednesday 20th September 2023, expect them to deliver a face melting performance full of harsh vocals, breakdowns, and intense moshpits breaking out in the crowd. Since their formation in 2007, Fit For A King has been captivating fans with their unique blend of melodic riffs, heavy breakdowns, and emotionally charged lyrics. The band's current lineup consists of lead vocalist Ryan Kirby, guitarist Bobby Lynge, drummer Jared Easterling, and bassist Ryan Tuck O'Leary.
Fit For A King has released multiple albums over the course of their time together as a band. Their debut album Descendants (2011) was the first step to building their devoted fanbase. The follow up albums, Creation | Destruction (2013) and Slave to Nothing (2014), showing the band's growth and maturity, further cementing their place in the metalcore scene. FFAK's 2016 release, Deathgrip, released an intense and unrelenting sound on the world. The 2018 album Dark Skies features a more refined and polished approach, with took them beyond the status of your friend's favorite obscure metal band to one that's critically acclaimed and commercially successful.
Fit For A King has shared the stage with numerous scene favorites, including August Burns Red, The Devil Wears Prada, and Beartooth. They also took their place at fan favorite festivals like Warped Tour and So What?! Music Festival.
As Fit For A King descends upon Fillmore Auditorium on Wednesday 20th September 2023, expect an unbelievable night of high energy metalcore and charismatic stage presence. Fans will be captivated by the band's powerful vocals, intricate guitar work, and pounding drums, creating a sonic experience that's both brutal and melodic. With FFAK's history of delivering high-octane shows and their unwavering commitment to pushing the boundaries of metalcore, this event is sure to be a must-see for fans of the genre.
Don't miss your chance to witness Fit For A King's electrifying performance at Fillmore Auditorium. Grab your tickets now, as they're guaranteed to go fast, and prepare yourself for a night of intense metalcore!