Fillmore Auditorium | Denver, Colorado
Punk fans, get ready for an awesome show!! It's Flogging Molly, on tour with support from The White Buffalo, coming to Fillmore Auditorium on Saturday 13th May 2017!! Tickets are going to disappear FAST for this high-energy, fast-paced show, so don't delay in getting yours – hit the "Buy Tickets," button above to be sure of your place!!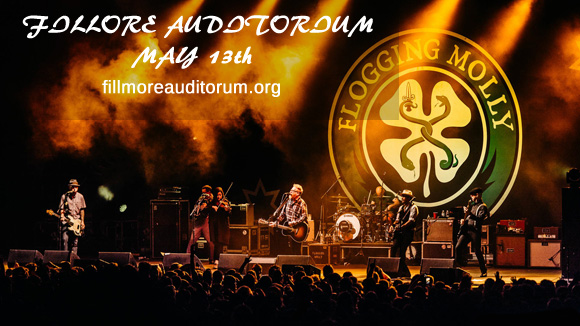 The 7 piece Irish-punk act, formed in Los Angeles, are a furious hard-hitting mix of traditional Irish music and ugly punk, winning the attention of SideOneDummy Records with their fearsome energy live!! Their debut album "Swagger" was released to massive positive reviews. It's follow up, "Drunken Lullabies," quickly achieved Gold status, the title track featuring on the video game "Tony Hawk's Pro Skater 4". The band have gone on to sell more than 1.5 million records worldwide, accompanied by extensive touring to waiting fans across the globe.
Formed and fronted by lead singer and songwriter Jake Smith, The White Buffalo have become cult legends for their unique, experimental take on rock-tinged Americana. Starting out listening to punk, Smith picked up the guitar aged 19 and started to perform folk and country originals anywhere he could. A few years after his first album "Hogtied Like A Redeo," he re-recorded and released the album as "Hogtied Revisited," this time breaking the mainstream and reaching massive critical acclaim which has continued since, with his songs appearing in TV shows such as Sons Of Anarchy.
Flogging Molly's 2017 tour will be in support of their long-awaited, brand-new upcoming album – be among the first to hear the new material live!!