Fillmore Auditorium | Denver, CO
Touted as one of  the hardest working rock bands in history, Gov't Mule is still pushing their limits and will rock on to your heart's content. Get this genuine rock n' roll experience as Gov't Mule goes to Filmore Auditorium for a one-night only concert on the 13th of September 2012 at 7:00 pm.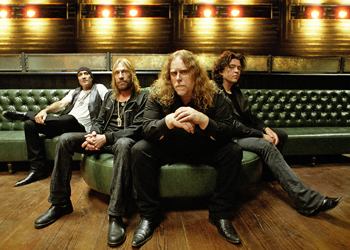 Sometime in the year 1995 when the Allman Brothers were taking a break… Gov't Mule got busy!  Founding members Warren Hayes and Allen Woody, were widely known as the Allman Brothers' lead guitarist and bass player, respectively.  In 1995, the success of their debut spurred on a string of successes both in the studio and in live music festivals across North America. Yet Allen Woody's untimely death in 2000 was a great loss but it did not dampen the spirits of Warren Hayes and the rest of the band. "I don't know if we were willing to travel that road right after Allen died," says Haynes, "but this far down the line, it seems liberating and exciting." 
To this day, they have not rested on their laurels.  They have earned over 2 million (and growing) paid music downloads through their own online music store, MuleTracks; released commercially successful and critically acclaimed studio albums, live albums, DVDs, embarked on coast-to-coast sold out concerts, and still enjoy the adulation of a consistently growing fanbase.
But there ain't no stopping 'em from working both in the studio and on the road.  "It feels like we're moving forward and backward at the same time," Haynes notes. "Hardcore fans tend to not want us to move too far away from where we started, but the band never wants to stay in one place for very long."  That's why fans troop to their live shows.  They get a taste of both the good ol' southern rock repertoire, and yet they're in for a fresh and mind-blowing music trip at the same time.
Do hear those hooves running?  Yes, there's a barren of 'Mules' out there who are on a rampage to get tickets to the Gov't Mule live concert at the Filmore Auditorium.  If you're a true-blue fan, join-in and be counted! Get your tickets now!