Fillmore Auditorium | Denver, Colorado
Are you ready to swallow the most venomous insults, stinging hate comments from notoriously hard-hitting yet super funny bashers? If your answer is a resounding 'yes', then brace yourself for an outrageous evening of unapologetic comedy. "Haters Roast – The Shady Tour" is a spin-off from VH-1's reality show which features numerous former RuPaul's Drag Race contestants, finalists, and winners. They're currently touring 'round the country and spreading the hate, but all in the name of fun. This raucous bunch is now headed to this side of town for a very limited run at the Fillmore Auditorium on Thursday 28th February 2019. Take the front seats at your own risk — but that's where all the fun begins! No matter where you are seated, you'll always feel you're on a hot seat sizzling from a roast of words hurled at every part of the room. Get your tickets now and experience a different kind of comedy and entertainment.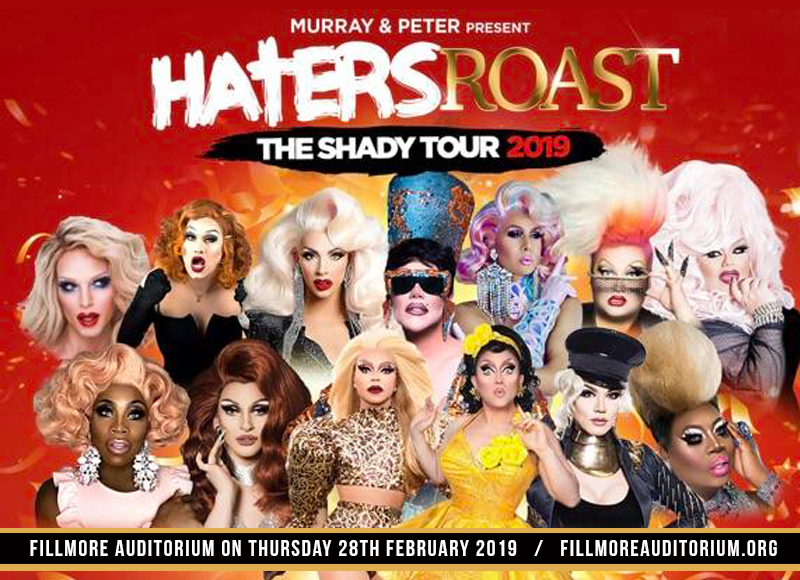 RuPaul's Drag Race aired on VH-1 is constantly on the search for America's most fabulous drag queen. It's a battle of talent and wit that is currently a big hit among the LGBT community. Ultimate fab drag queen mother herself, RuPaul acts as the main host with a couple of judges sitting at the panel. In the Logo network's history, the show has the record of achieving the highest ratings and has spawned numerous spin-offs. It also bagged an Emmy Award in the year 2016 for Best Reality Show Host.
In between the 9th and 10 seasons of airings of RuPaul's Drag Race, Haters Roast first went on its first road tour. Due to its enormous success, Haters Roast forged on, and this year, they're at it again, calling this 'The Shady Tour'. If no-holds-barred bashings are your thing, then you're in for a brand of comedy that will tear you apart and kill you with non-stop laughter. Getting the sold-out sign slapped on your face is no laughing matter. Seriously, get your tickets now!