Fillmore Auditorium | Denver, Colorado
If you need a place or a moment where you can just be yourself with no judgment, no bashing, no hate, you can let your hair down and 'just be' at a Hayley Kiyoko concert. Of course, the music, the vibe, and the fun party start as soon as Hayley Kiyoko hits the stage of the Fillmore Auditorium on Thursday 5th March 2020. The "I'm Too Sensitive For This Shit" tour announcement also coincides with the release of her brand-new single "Demon". Dubbed by her fans as "Lesbian Jesus", Hayley Kiyoko has indeed assembled a significant number of loyal disciples and ardent followers. Don't take this as a sign, but rather face the fact that tickets to this show are highly in-demand. While everyone's striking while the iron is hot, better click before it's too late. Yes, that 'buy tickets' button is within reach on this website that only needs a few easy clicks so you could save your spot and have the time your life.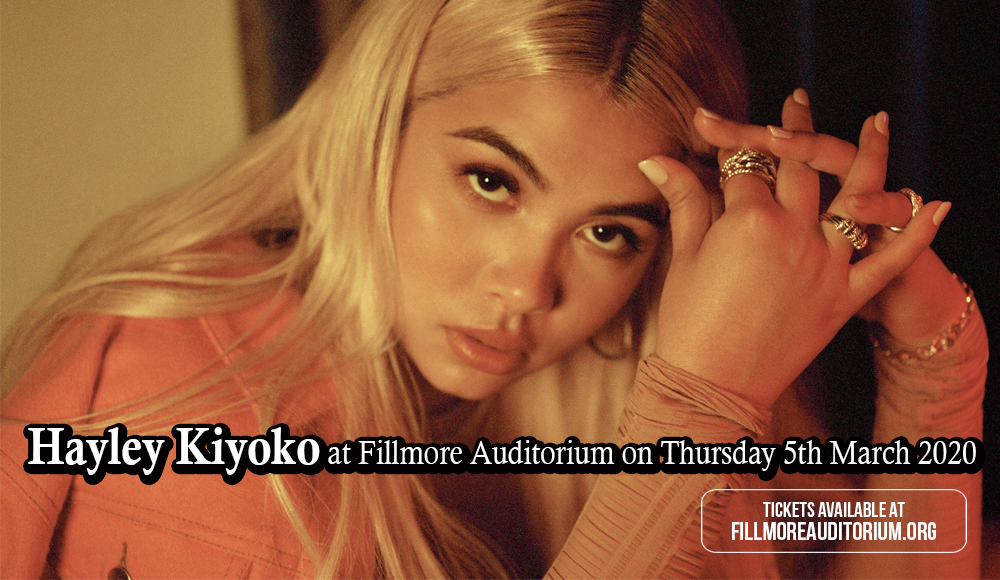 Haley Kiyoko had her showbiz beginnings appearing in national commercials for different brands. Her musical talent and natural knack for acting landed her roles as a child actress in Disney Channel's "Lemonade Mouth" movie and "Wizards of Waverly Place," and for her musical stint in the female pop singing group, The Stunners. Kiyoko also starred in a variety of films including Scooby-Doo! film series , Blue Lagoon: The Awakening, Jem and the Holograms, and XOXO. Alongside her film roles, she also held a recurring role in the TV series The Fosters and a lead role on CSI: Cyber, and Five Points.
Haley Kiyoko has always been prolific songwriter and gifted multi-instrumentalist, playing the drums, keyboard and guitar. Music has also been her avenue express herself and inspire confidence in young people dealing with the struggles coming to terms with her identity and supporting the LGBT advocy, being a lesbian herself. She is also a recepient of the "Youth Innovator Award" of The Trevor Project, for her work and artistry in using her voice in the music industry to shine a light on marginalized communities.
An icon nonetheless, this concert is a must-see! Go and get your tickets now!