Fillmore Auditorium | Denver, Colorado
Are you in? Incubus is raising this question once again as they mark the 20th anniversary of their breakout album "Make Yourself". And that comes with a four-month journey on the concert circuit as they cover 39 venues all over the nation. The road is long but it will be leading towards the neck of the woods as they make a stopover here at the Fillmore Auditorium on Friday 13th September 2019. Fans will definitely give a resounding 'yes' as they come in throngs with rabid appetites and will risk life and limb just to get prime seats and tickets to the show. Well, you're in luck as you can secure your seat in the comfort and safety of your own homes. With a few clicks starting off with the 'buy tickets' button on this site. you'll just sit back and giddily look forward to the day when Incubus arrives and hits the stage. Start clicking now!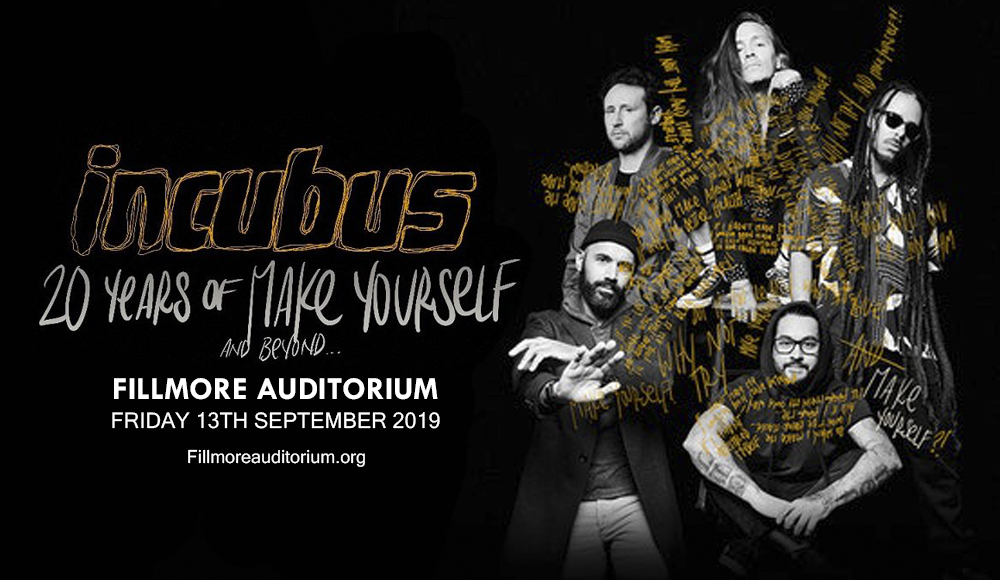 Yes, it's been 20 years since Incubus slowly but surely gained worldwide attention then adulation from the time they released their pivotal album "Make Yourself". They had a rather slow start, so to speak, up until "Make Yourself" exploded with the band's highest charting song "Drive", plus other smash hits like "Stellar", "Pardon Me", and many more. Since then, Incubus' albums and single gave them an avalanche of chart-toppers and best-sellers, as well as sold out shows and many parts of the globe. The momentum carried on with "Morning View (2001), A Crow Left of the Murder… (2004), "Light Grenades" which debuted at No. 1 in 2006, was followed by Incubus' first greatest hits album "Monuments and Melodies" in June 2009 and the band's 2011 album, "If Not Now, When?" All these gave them a whopping albums sales of over 19 million albums worldwide, and notable awards and recognitions which include Billboard's Modern Rock Single of the Year in 2001 for "Drive" a Grammy nomination for "Best Engineered Album (Non-Classical)" for the album Morning View.
And with that, Incubus calls on their fans and extends this invitation: "We are so looking forward to this Fall tour. Make Yourself was such a pivotal moment in our band and we are beyond excited to reintroduce this album to our audience while also showcasing the many musical roads it ultimately led us down. See you soon!" So now what, are you in?