Fillmore Auditorium | Denver, Colorado
"Comparison really is the thief of joy." As hard as it may be to imagine someone as influential in his field as James Blake comparing himself to others (and feeling like he may be falling behind), his new song "Say What You Will" is just about that. "The song is about finding peace with who you are and where you're at regardless of how well other people seem to be doing," Blake explains. And who else to star in his video but another music genius – Finneas himself. Granted, the song may not be a collaboration but could it be a hint to a unique musical partnership emerging from their friendship? Regardless, James Blake is perfectly enough for us – especially when he announces a full new album release followed by a tour.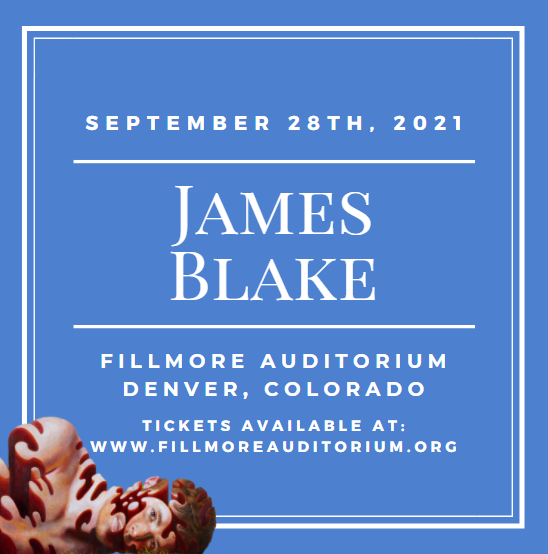 James Blake started as the alternative kid on the block which brought us something truly unique, and quickly got unofficially pronounced the father of downtempo electronica with new and unique fans and followers emerging daily. But he's not only known for his unique beats – he's also known through his iconic collaborations, as well as the ones that didn't happen – he was the one who turned down Drake. You don't get to see that often. The English singer-songwriter, musician, and producer has easily established himself as a name to know in the music industry. From working with hip-hop giants like Chance the Rapper, Beyoncé, Jay-Z, Frank Ocean, to being a forerunner in the electronica scene, and winning the Mercury Prize in 2013, Blake has time and time again proved to be one of the most interesting and sought-after voices in music. It's no wonder either, with his unique and infectious take on post-dubstep and downtempo electronica, Blake has received well-deserved praise from fans and critics alike. Whoever is lucky enough to find themselves in Fillmore Auditorium on the 28th of September will be one of the first ones to hear 'Friends That Break Your Heart' live. Tickets are still available but going quickly.