Fillmore Auditorium | Denver, Colorado
Japanese R&B and hip-hop musician with a twist of electronic synths to his atmospheric hits that give listeners the feels, the one and only Joji is back on the scene with a new ballad "Glimpse of Us" and a brand new tour. The singer who caught the public eye by just wanting to 'slow dance in the dark is set to embark on the SMITHEREENS tour, with Filmore Auditorium on the roster happening on Saturday, 10th of September 2022. Since his 2020 record "Nectar", Joji hasn't dropped any new tracks until this year's "Glimpse of Us" where the singer takes listeners on a lovelorn tale. With big surprises coming in as Joji returns to the big stage. So, book your tickets now!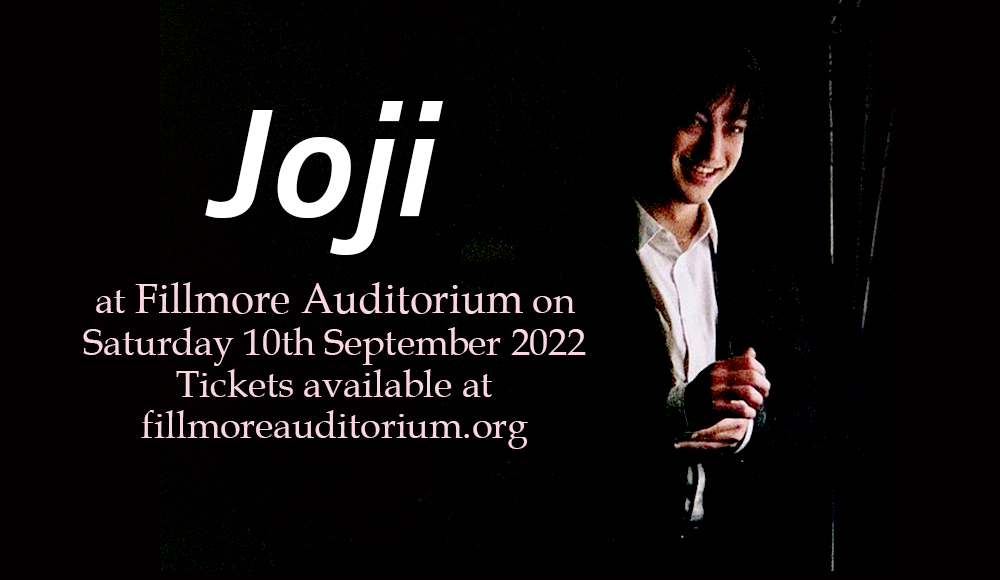 Born as George Kusunoki Miller in Osaka, Japan, Joji entered the scene as an iconic sensational YouTuber up until 2018 when he decided to stop producing comedy. From his Filthy Frank days and comedic tunes as Pink Guy, the world soon saw the rise of a new persona under his stage name "Joji".
From then on, Joji became a global nameplate for lovelorn ballads accompanied by mood-setter pianos, synths, and electric beats that take listeners on an atmospheric lyrical tale. In contrast to his series of comedic tunes under his now-ceased Pink Guy persona, Joji gave the world all the feels, especially through lovelorn tales through his heart-wrenching hits.
Under his label 88rising, Joji released his first tracks "I Don't Wanna Waste My Time", "Rain on Me", and his debut single "Will He" for his debut EP In Tongues in 2017. In 2018, he released his debut full-length LP "Ballads 1" featuring his global breakout hit "Slow Dancing in the Dark". The single is RIAA certified 2x Platinum, and Ballads 1 also bags an RIAA Platinum certification.
From then on, he continued making waves in the scene, releasing more hit singles "Can't Get Over You" feat. Clams Casino, "Test Drive", "Sanctuary", "Run", and "Gimme Love".
His records "Ballads 1" and "Nectar" hit #3 on the Billboard 200, both of which also bagged RIAA certifications. Joji has amassed a loyal global following whom he shares lovelorn lyrical tales with. Though he hasn't dropped any new material since his 2020 "Nectar", Joji surprised fans with the release of his new song "Glimpse of Us" in June of 2022.
"Sometimes I look in her eyes / And that's where I find a glimpse of us," Joji sings.
Along with the new single, Joji announced the SMITHEREENS tour, bringing his songs back to life and meeting his fans live on stage across the US and Canada.
With "Glimpse of Us" fresh from the shelves and a big tour coming up, big surprises are in for Joji's return to the big stage. Catch him perform live at Filmore Auditorium on September 10th by booking those tickets now!