Fillmore Auditorium | Denver, Colorado
Having made their big comeback in two years, the sensational KARD hailing from South Korea is embarking on the '2022 WILD KARD TOUR IN NORTH AMERICA' in support of their brand-new mini album "Re:". The new record features their comeback hit "Ring The Alarm". So, start setting those alarms so you can catch KARD live on stage at Filmore Auditorium on Sunday, August 28th, 2022. But before anything else, book those tickets now and save up your energy for a blast aboard KARD's big new era.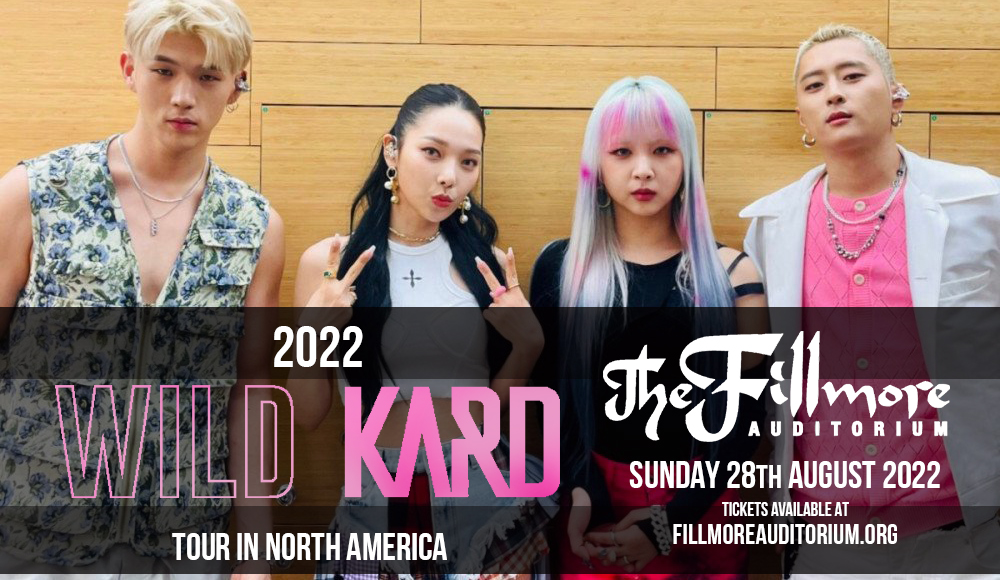 Co-ed groups aren't a common sight in the K-Pop scene and haven't seen much global limelight in the past. However, South Korea's KARD came crashing and broke walls down, hailed as "one of the most successful co-ed K-pop acts to ever exist" by Billboard, with their debut EP hitting #3 on the World Albums Chart. With an "undeniably trendy" K-Pop groove incorporating contemporary house and dancehall in their work, KARD is set to greater dominate the global scene with a big new "Re:" era.
After a brief break since 2020's "Red Moon" and "Way with Words", member J.Seph is back from completing his mandatory military service, reuniting with members BM, Somin, and Jiwoo, dropping a big new era for the group with "Re:" featuring its new hit "Ring The Alarm".
"I really appreciated how the members would stay on the phone with me and listen to what I had to say, considering that I'm a talkative person," J.Seph shared.
"Re:" has sold over twenty thousand copies in its first week last June 22, with over seven thousand in its first day, breaking their previous record from 2020's "Way with Words". "This album is by far my personal favorite," said J.Seph. "The hair, makeup, performance — I hope all our fans enjoy it as much as I do."
"The prefix 're,' when added to the front of a verb, means 'to do again,' and we've finally returned to the stage after almost two years," shared BM.
With a fresh new record that brings the sensational KARD back to the global stage, the members are more excited, passionate, and hyped up to return to the big stage around the globe. "We really hope to make cherishable memories with this album," J.Seph said.
KARD's hits and fan favorites over the years include "Hola Hola", "You in Me", "Bomb Bomb", "Red Moon", "Ride on the Wind", "Gunshot", and their comeback anthem "Ring The Alarm".
So, start setting those alarms and jump right into the '2022 WILD KARD TOUR IN NORTH AMERICA' by booking those tickets now!