Fillmore Auditorium | Denver, Colorado
Horrors await you as King Diamond comes to Fillmore Auditorium on Friday 22nd November 2019! The Danish heavy metal band will be performing in all their spine-chilling glory, performing tracks from their upcoming thirteenth studio album, The Institute, due for release in 2020 – a full thirteen years since their last studio album! Joining them on the tour will be Uncle Acid and the Deadbeats, and Idle Hands:
"As the long nights draw in and the temperatures drop, I can't think of a better artist to creep around North America with than the legendary King Diamond," said Uncle Acid and The Deadbeats. "You'll all be in for a treat…See you there!"
Idle Hands added, "Touring with the iconic King Diamond is nothing short of a dream and we are excited to make it a reality."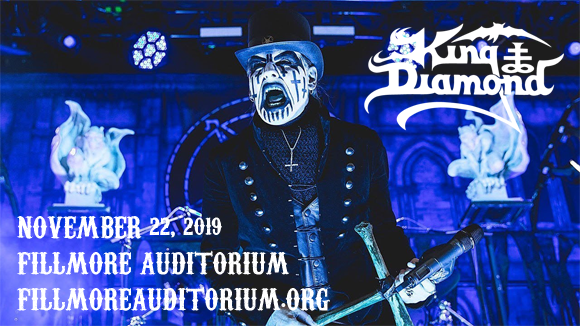 Formed in 1985, from the ashes of the group Mercyful Fate, King Diamond is a Danish heavy metal band, currently consisting of vocalist King Diamond, guitarist Andy LaRocque, guitarist Mike Wead, drummer Matt Thompson, and bassist Pontus Egberg. The band's eponymous lead singer is recognizable from his iconic stage make-up and microphone handle, which is formed of a femur bone and a tibia bone in the shape of a cross. The band is also known for its theatrical live shows and horror-themed concept albums. King Diamond made its debut in 1986 with the album Fatal Portrait, and has released twelve studio albums to date, with a thirteenth, The Institute, due for release in 2020. The band's song "Never Ending Hill" from their seventh studio album Give Me Your Soul… Please (2007) earned them a Grammy nomination for "Best Metal Performance".