Fillmore Auditorium | Denver, Colorado
Atlantic hip hop sensation Kodak Black comes to Fillmore Auditorium on Sunday 5th May 2019 on the Dying to Live Tour! The rapper is promoting his second and most recent album of the same name, which includes the hit single "ZEZE" (ft Travis Scott and Offset), as well as "Calling My Spirit," "Moshpit" (ft Juice Wrld), "Gnarly" (ft Lil Pump), and "If I'm Lyin I'm Flyin"!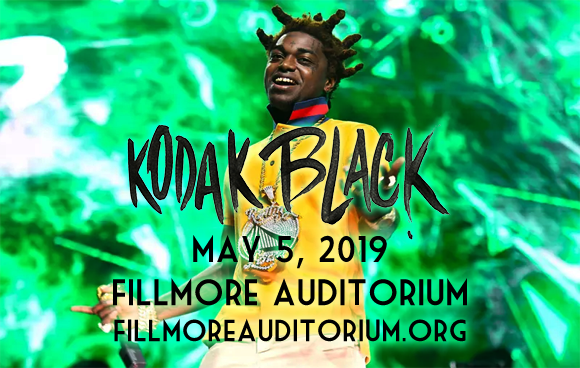 Known for his singles "Zeze", "Roll in Peace", "Tunnel Vision", and "No Flockin", American rapper and songwriter Kodak Black first came to public attention in October 2015, when Canadian rapper Drake posted a video of himself online dancing to one of Kodak Black's songs, "Skrt". He signed a deal with Atlantic Records that month and by the following August "Skrt" had reached number 10 on Billboard's Bubbling Under R&B/Hip-Hop Singles chart. His debut studio album, Painting Pictures, was released in 2017 and peaked at number 3 on the Billboard 200. His follow-up, Dying to Live (2018), debuted at number one on the US Billboard 200.