Fillmore Auditorium | Denver, Colorado
Superstar rapper Lil Pump comes to Fillmore Auditorium on Friday 28th September 2018! The 18-year-old "Gucci Gang" artist is touring in support of his eagerly-awaited new mixtape Harvard Dropout, which is due for an August release, but still remains shrouded in mystery (Pump allegedly lost the mixtape on its intended release day)… Fans can look forward to some dope collabs on the new release and maybe even some guest appearances when the young rapper hits the stage. Whatever happens, you know it's gonna be fire from Lil Pump!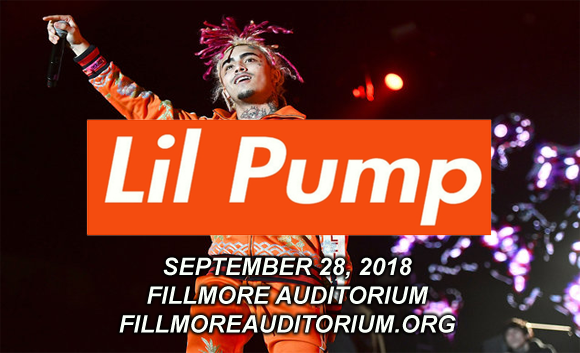 American rapper and record producer Lil Pump first began in the rap game in 2016 when he was asked to freestyle over a track by producer Smokepurpp. The song, "Lil Pump", became the rapper's debut single and was self-released on the music streaming site SoundCloud, followed by several more singles – "Elementary", "Ignorant", "Gang Shit", and "Drum$tick" – which racked up over three million streams each. His SoundCloud success only increased the following year with the release of singles "D Rose" and "Boss", which were major hits, achieving a combined 70 million streams. This success led to a music video for "D Rose", which in turn led to a record deal with Tha Lights Global and Warner Bros. Records, although the Warner Bros. Records contract was rendered void on the technicality of Lil Pump still being a minor at the time of signing. The artist's debut commercial studio album, Lil Pump, featuring Smokepurpp, Gucci Mane, Lil Yachty, Chief Keef, Rick Ross, and 2 Chainz, was released in 2017 and launched the single "Gucci Gang", which became his first Billboard Hot 100 entry, peaking at number three. Lil Pump signed a second contract with Warner Bros. for $8 million on March 12, 2018 and released his second studio album, Harvard Dropout, on August 17, 2018.