Fillmore Auditorium | Denver, Colorado
Pump up the jam-tronica! Electronic jam band Lotus is still at the top of their game and showing no signs of slowing down. In fact, Lotus is on the road again, heading out to cities and venues, sowing seeds that would pop out music that's funky, electric, and eclectic with a jovial, stirring, and hypnotic vibe. Lotus is headed right this way –hitting the live concert stage of the Fillmore Auditorium on Saturday 2nd November 2019. Lock-in your ticket booking by just clicking "buy tickets" on this website. Less hustle and hassle. Just look forward to the fun party that awaits you at the Lotus concert. Don't miss it!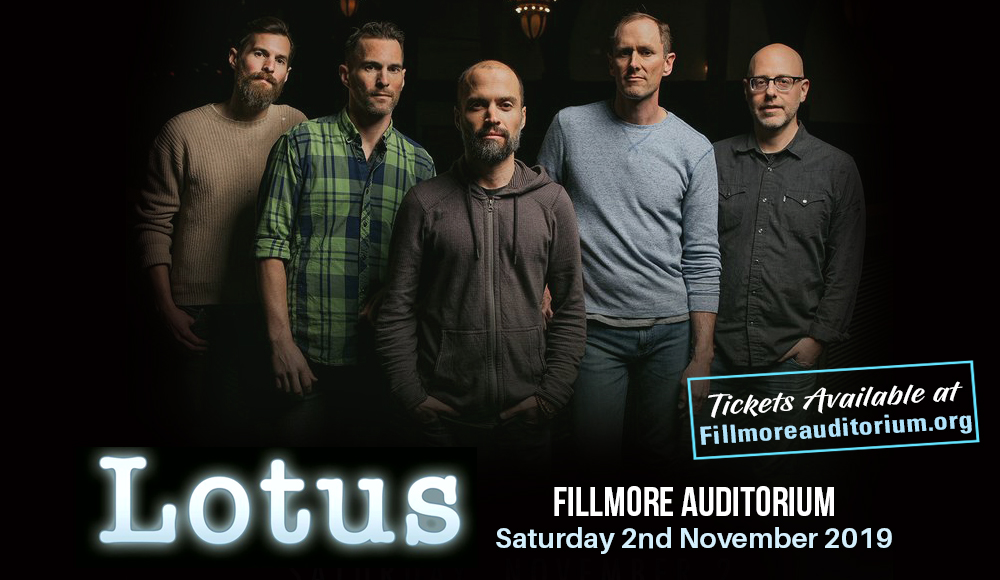 EDM DJs are said to have hogged the limelight away from electronic jam bands. Yet Lotus is one of the enduring beacons among jam bands. Over the years, they have managed to keep the limelight, always sounding as fresh and bright as summer's day. Formed in 1999 in Philadelphia, Pennsylvania and released their debut in 2002, Lotus is now on their14th LP, still moving and trending in the right direction commercially and creatively.
Lotus is often classified as electronica, but some say that 'multi-genre band' is more an apt classification as the band incorporates elements of jazz, jam, hip-hop, funk, and other emerging sounds that blend well with their style. Bassist Jesse Miller said of the band's sound: "I truly believe Lotus' sound comes from the roots of rock 'n' roll mixed with electronic beats that are popular today. It took a long time for us to finally find a sound we all agreed on. But believe me, we experimented plenty before deciding what sound we were looking for".
Being constantly on the road has helpled the band build their following, mostly through word of mouth, as they are said to be laying between 90-115 live shows per year. There's no stopping Lotus. They're at it again! Book your tickets now for this engaging and mesmerizing concert experience.