Fillmore Auditorium | Denver, Colorado
It's an indie rock dream team as Manchester Orchestra & The Front Bottoms join forces for a very exciting co-headlining tour that comes to Fillmore Auditorium on Saturday 1st December 2018! The two bands, who are both festival staples and well-loved in the indie scene, seem a perfect fit for each other, so fans will be thrilled to know that both will be playing a full-length set! And who knows, there may even be some collaboration in the air…! The Front Bottoms are currently promoting the release of the Ann EP, the second in the "Grandma series", which came out this May, and Manchester Orchestra are still riding high on the release of last year's A Black Mile to the Surface! Don't miss this opportunity to see two stellar indie bands in one incredible show – you know it'll be worth every cent! Tickets available now!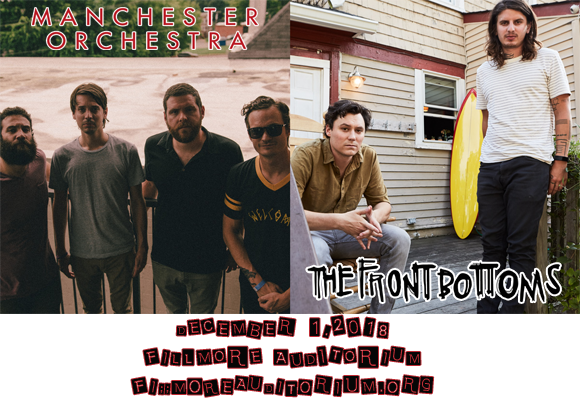 Atlanta-based indie rock band Manchester Orchestra formed in 2004, and currently consists of Andy Hull (songwriting, rhythm guitar, lead vocals), Robert McDowell (lead guitar), Andy Prince (bass) and Tim Very (drums). A favorite on the live music circuit, the band has played a variety of music festivals over the years, including: Lollapalooza, Bonnaroo, Coachella, Riot Fest, Shaky Knees Music Festival, Firefly Music Festival, Reading and Leeds Festivals. To date, they have released several extended plays and five studio albums: I'm Like a Virgin Losing a Child (2006), Mean Everything to Nothing (2009), Simple Math (2011), Cope (2014) (as well as its accompanying acoustic version, Hope) and A Black Mile to the Surface (2017). Andy Hull and Robert McDowell from the band also wrote and performed the soundtrack for the 2016 Daniel Radcliffe film Swiss Army Man.