Fillmore Auditorium | Denver, Colorado
MÅNESKIN'S Loud Kids World Tour comes to Fillmore Auditorium on Monday, November 14th 2022. In 2021, Måneskin won Eurovision, took on America, and were streamed more times in one month than Metallica, Bring Me The Horizon and Biffy Clyro combined. Say hello to the rising Italian rock'n'roll stars getting ready to destroy 2022… Yes, this is that little Italian band, and yes they are here for your Rock & Roll soul, and they ain't leaving without it. Grab some tickets and come along to the madness…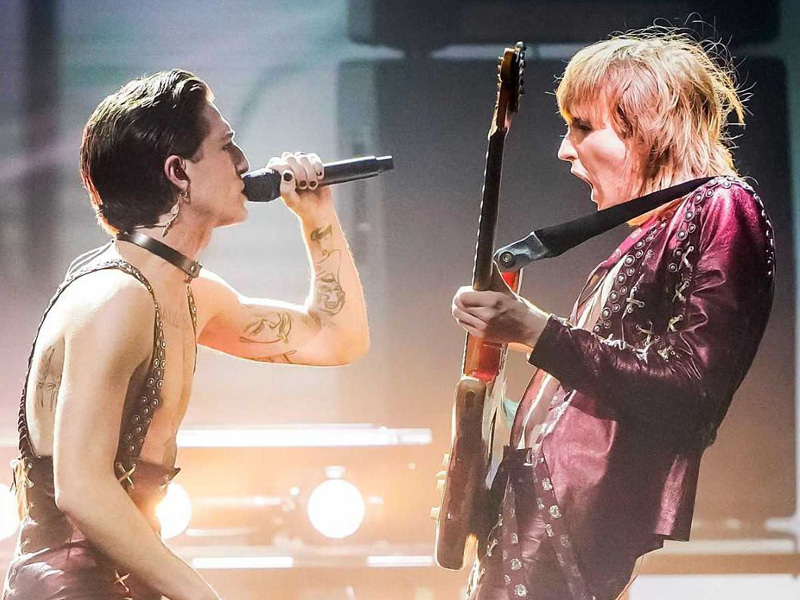 The Italian rock band formed in Rome in 2016 and started off by busking on the streets of Rome. They are composed of vocalist Damiano David, bassist Victoria De Angelis, guitarist Thomas Raggi, and drummer Ethan Torchio. They rose to prominence after finishing second in the eleventh season of the Italian talent show X Factor in 2017. Their international breakthrough ensued when the foursome won the Eurovision Song Contest 2021 for Italy with the song "Zitti e buoni". After the contest, the album Teatro d'ira Vol. I, its single "Zitti e buoni", tracks "I Wanna Be Your Slave" and "Coraline" as well as other releases from the band entered weekly charts across Europe and beyond, including several Spotify global charts.
The band have since amassed over 3 BILLION streams, and have climbed international charts to number 1 in numerous countries and across the Global on multiple digital platforms, including the number 2 TikTok song of 2021. Their 2017 cover of "Beggin'" re-entered the world charts, peaking at number 6 in the UK, making them the first Italian act and the first Eurovision-associated act to have two songs charting in the top ten of the UK Singles. The song later debuted on the Billboard Hot 100 chart at number 78 and went on to peak at number 13, making them the second Eurovision-winning act in recent history to break into the chart. They were Billboards "Top New Rock Band of the Year," 2021's longest number 1 run at Alternative radio, and they won an MTV Europe Music Award for Best Rock Act.
With no slowdown in sight, MÅNESKIN most recently made a global trending debut appearance on Saturday Night Live, were announced as Coachella performers, and were hailed by The Los Angeles Times as: "America's New Favorite Rock Band."