Fillmore Auditorium | Denver, Colorado
Think poster boy of shock rock. One face definitely stands out – Marilyn Manson. Horror rock music is his name, controversy is his game. When Marilyn Manson hits the live concert stage, he pulls out a new terror trick off his hat which sends his fans in a mad state of frenzy. Expect all hell to break loose. Marilyn Manson fans are not a bit scared of getting their hands on this hot ticket! Get a grip on this one. Just click 'buy tickets' on this website so you get this hot ticket with no sweat. Catch Marilyn Manson live at the Fillmore Auditorium on Monday 28th October 2019!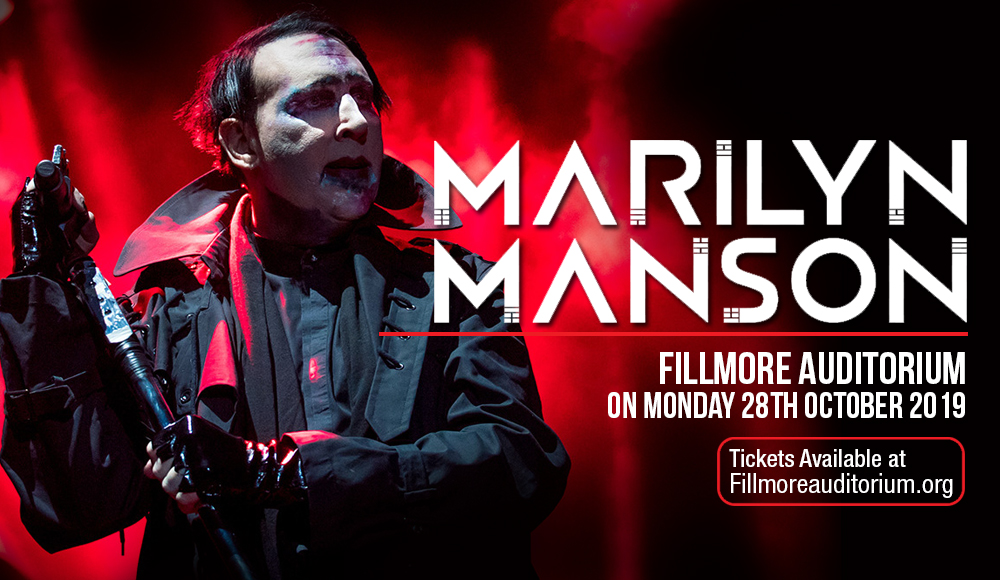 He's got the face that you either love or hate. Marilyn Manson is this generation's face of notoriety and controversy; making his way to the mainstream charts using a twisted version of sex, drugs, and horror rock in the 90s. Paste magazine cites Manson a rare breed — "few artists in the 90s as shocking as Marilyn Manson, the most famous of the shock-rockers".
Marilyn Manson, along with his band at that time, debuted in 1994 with the release of the album, "Portrait of an American Family". The album quickly attracted a cult following who began supporting succeeding releases which became stepping stones to his eventual chart successes. "Smells Like Children" released in 1995 is an EP that yielded the band's first big MTV hit with "Sweet Dreams (Are Made of This)", a cover of the 1983 Eurythmics hit. Antichrist Superstar (co-produced by Trent Reznor) was an even greater success. In the U.S. alone, Manson has collected three platinum and three gold albums. Eight of their albums debuted in the top ten, including two albums hitting the number one spot. Manson has been ranked number 44 in the "Top 100 Heavy Metal Vocalists" by Hit Parader, and, along with his band, has been nominated for four Grammy Awards.
Ever wonder what it's like to be in hell? Try missing this Marilyn Manson concert while all your friends are burning with excitement. Don't be left behind, book your tickets now!