Fillmore Auditorium | Denver, Colorado
All Comes Crashing to a great concert night at Fillmore Amphitheatre this Saturday, October 15, as the Toronto indie champs Metric bring their "The Doomscroller Tour" to Denver's famous venue. Let the songs, guitar riffs, and powerful synths of the Emily Haines-led band take you on an evening of pure rock and roll fun. Sing along to the band's massive hits, such as "Breathing Underwater," "Gold Guns Girls," "Black Sheep," "Dead Disco," and many others. This is the band's first tour after releasing their newest album, "Formentera," so we can expect to hear the most recent songs from their highly-anticipated album. If that doesn't excite you, then we don't know what will. So click on the "Get Tickets" button now and order your tickets for their Denver, Colorado show. See you there!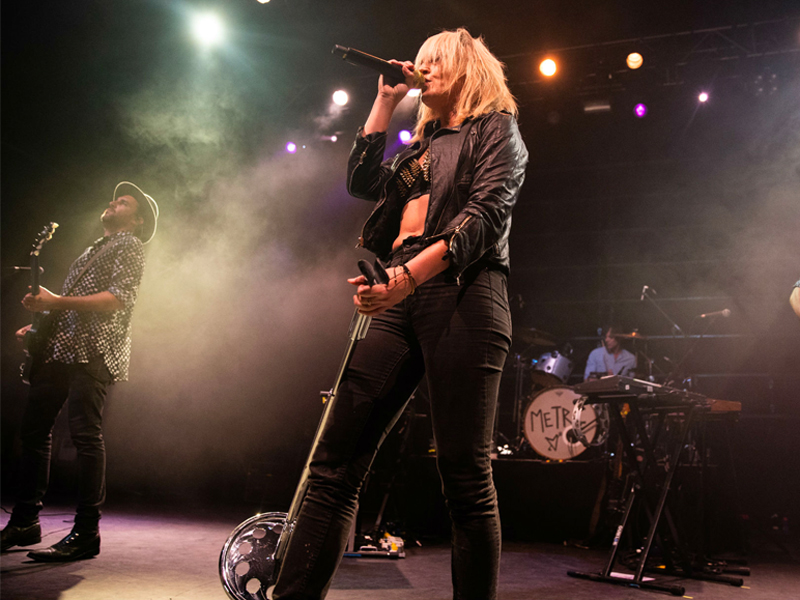 Originally formed as a duo of singer Emily Haines and guitarist Jimmy Shaw, Metric evolved into a pop-rock band in 1998. From performing in small pubs and tiny venues, the band adapted an alternative indie-rock sound. The band focused on their downtempo music with driving drum beats that are both danceable and introspective. The band is known for layering catchy melodies and edgy lyrics, which become an actual work of art whenever Emily Haines' distinctive, airy soprano voice is added.
Metric enjoyed their big break in the industry when their songs were used in several high-profile media ventures. The blockbuster movie series Twilight used one of their most famous songs, "Eclipse (All Yours)." "Black Sheep" was used in the film Scott Pilgrim vs. the World, and "Gold Guns Girls" was used in the documentary "Miss Representation" and in several television shows. The song "Grow Up and Blow Away" was also used in a Polaroid commercial.
With over a million singles and 500,000 albums sold worldwide, Metric is indeed on top of their game. They are also a winner of five Juno Awards, including the coveted "Group of the year." Their latest album, Formentera, was released with the song "All Comes Crashing" as the lead single. The band is also embarking on a North American tour, which will kick off this August.
"We're crafting a setlist based on fan favorites, including deep cuts from Live It Out and Old World, and it's been wild to see how the new songs from Formentera flow with the classics from Fantasies and Synthetica," says Haines. "…I want Metric fans to have the best concert experience possible and feel like they got to escape into another reality with us for the evening."
With this exciting statement from the band's lead herself, we can expect that this is going to be an exciting concert tour. Catch the band in their Denver, Colorado stop this October 15, 2022. Grab your tickets here by clicking the "Get Tickets" button.