Fillmore Auditorium | Denver, Colorado
Milky Chance are coming LIVE to Fillmore Auditorium on Friday 6th October 2017!
If you love music that makes you feel good then don't miss your chance to see Milky Chance as they bring a truly unique sound to the stage this Fall! These guys are not your typical Pop writing acts, instead they infuse genre's to break all of your boundaries – all still in a catchy and commercial way – book your tickets before it's too late!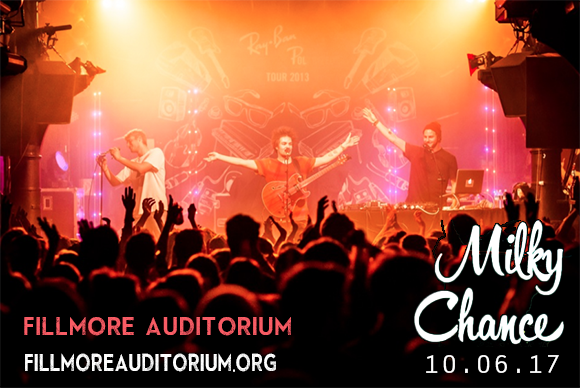 German band Milky Chance combine elements of Folk, Blues, Rock and Pop to give a sound like no other, with their tracks often featuring hand claps, funky guitars and house style beats – these guys sure know how to make a crowd move. The main members include; lead vocalist and guitarist Clemens Rehbein, DJ, producer Philipp Dausch, and guitarist Antonio Greger.
Since their debut back in 2013, with 'Stolen Dance' – Milky Chance have been the talk of the town, not just in Germany, Europe, but all around the world and are now taking over the charts across North America. As their music has plenty of genre-bending appeal, they are very adaptable and suit a lot of people's tastes – these guys have the chance to be a global success!