Fillmore Auditorium | Denver, Colorado
The bombastic and beloved forefathers of industrial metal, Ministry, are coming to Fillmore Auditorium on Saturday 24th November 2018 on the AmeriKKKant Tour! Al Jourgensen and co will be tearing up the stage with their subversive, politically charged synth-based metal, and will be playing brand new tracks from their controversially-titled fourteenth studio album AmeriKKant, which, according to Jourgensen "will provide FEMA-type relief for the devastation 'Hurricane Cheeto' has brought upon us." Ministry continue to be one of metal's most entertaining live bands, so don't miss your chance to see these iconic veterans of industrial music live – you won't regret it!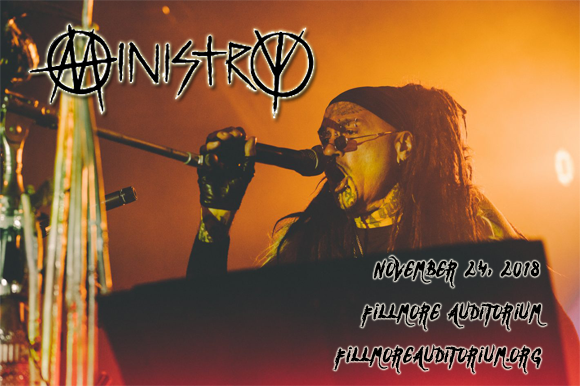 American industrial metal band Ministry formed in Chicago, Illinois in 1981. Originally a synth-metal band, the group experimented with different sounds and went on to become one of the pioneering forces in industrial metal in the mid-to-late 1980s. The band's breakthrough came in 1988 with the release of their third studio album The Land of Rape and Honey, which was certified gold by the RIAA. Their following two albums, The Mind Is a Terrible Thing to Taste (1989) and Psalm 69: The Way to Succeed and the Way to Suck Eggs (1992), were both certified platinum and their 1996 follow-up album, Filth Pig, peaked at number 19 on the Billboard 200. To date, the band has been nominated for six Grammy Awards. After a hiatus, initiated in 2008 after 27 years of recording and performing, the group reunited in 2011 and has since released three studio albums: Relapse(2012), From Beer to Eternity (2013) and AmeriKKKant (2018).