Fillmore Auditorium | Denver, Colorado
Following last year's co-headlining tour with enigmatic alt rock pop punks Brand New, Modest Mouse will be hitting the road this summer, heading to Fillmore Auditorium on Tuesday 6th June 2017, and there are whispers of a new album in the mix! The "Float On" indie rock veterans will be treating fans to some of their biggest hits and who knows… there may be some surprises!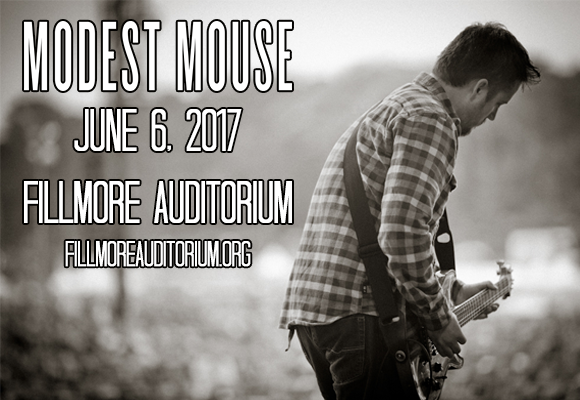 Modest Mouse is an American alternative rock band that was formed in 1992. Subject to several lineup changes over the years, the band's founders, and most consistent members, are lead singer/guitarist Isaac Brock and drummer Jeremiah Green. Former Smith's guitarist Johnny Marr joined the band from 2006-2008. The band gained a cult following with the release of their 1997 album The Lonesome West, which is often now considered an archetypal 1990s indie rock album, and they received a 9.8 out of 10 Pitchfork review for The Moon & Antarctica (2000), but it was their fourth studio album, Good News For People Who Love Bad News (2004) that brought the band mainstream success. The album was certified Platinum, launching the hit singles "Float On" and "Ocean Breathes Salty", and went on to be nominated for a Grammy Award for Best Alternative Music Album that year, as well as earning a Best Rock Song nomination for "Float On". The band's latest release was 2015's Strangers to Ourselves.