Fillmore Auditorium | Denver, Colorado
What's all the rage?! Well, life is good to all you rap, RnB, and hip hop fans out there.  The long awaited comeback of two iconic hip hop and RnB figures are making their way to Denver, Colorado.  Nas and Lauryn Hill announced their joint tour, and they're bound to fill-up the Fillmore Auditorium on November 16, 2012, for a one-night only show dubbed as the "Life Is Good / Black Rage Tour" .  Show starts at 7:00 PM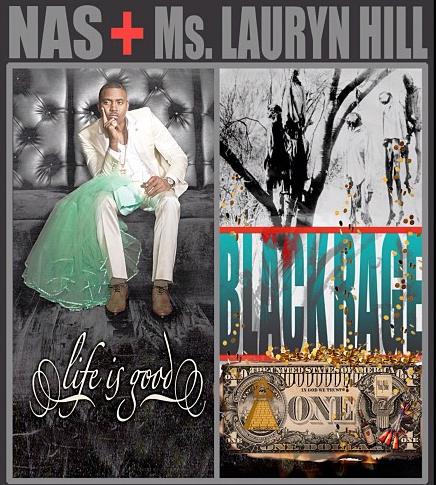 Nas has an iconic stature in the realm of hip hop music.  He rose to fame in 1991, and garnered mainstream success with his 1994 major label debut "Illmatic", acclaimed both by fans and critics alike and touted as a musical landmark and cited as one of the greatest LPs of all time.  MTV ranked him #5 on the "10 Greatest MCs of all time", and he made it to #2 of The Source's "50 Greatest Lyricists of All Time".  His comeback 2012 debut album "Life Is Good" is supported by his concert tour with Lauryn Hill.
Lauryn Hill tasted fame in different stages and roles in her career as an artist.  Everyone took notice of her role as that of a young nun in the 1993 movie "Sister Act 2: Back in the Habit".  Film critic Roger Ebert called her "the girl with the big joyful voice".  Lauryn Hill, also zoomed to mainstream hip hop / pop / soul consciousness as front woman of The Fugees. They scored a monster hit with a remake of Roberta Flack's "Killing Me Softly", infusing rap and hip hop grooves.  Then soon afterwards, she released her influential album "The Miseducation of Lauryn Hill" which earned five Grammy Awards, including the coveted Album of the Year and Best New Artist. Hill went on to set milestones in her career, and went on a hiatus sometime in 2009 – 2010.  Her newly released 2012 album "Black Rage Tour" is good news to fans who are highly anticipating her concert tour.
Nas and Lauryn Hill are making history once again.  Legions of their fans want to be part of this great moment.  Tickets are moving fast so it would be a shame if you miss the boat.  Buy your tickets now, this is gonna be a big one!