Fillmore Auditorium | Denver, CO
Be in a state of pop-punk bliss as Simple Plan and New Found Glory declares "Pop Punk's Still Not Dead". Indeed, these bands are alive and kicking and bound to hit the live concert trail. New Found Glory & Simple Plan will make a pit-stop at the Fillmore Auditorium on Thursday 16th September 2021. You have seen each of them in concert before, but never together. Expect twice the energy, double the excitement, as they deliver a multitude of hits songs live! Fans from both sides of the camp are also expected to go for a massive dive to get their hands on one of the hottest tickets of this concert season. Make sure you don't miss the bus. Tickets are now available and you can book your seats quickly and easily by clicking on that 'Get Tickets' flashing on this website. Book your tickets now!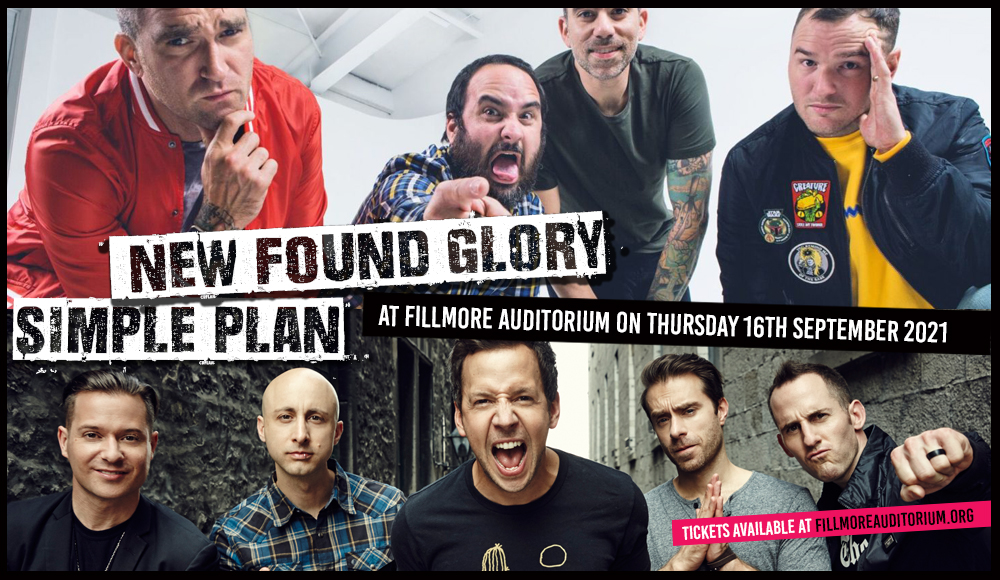 Simple Plan and New Found Glory walked the same pop-punk milieu at the start of the new millennium. Both bands crossed paths somewhere at the top of the music charts where their singles and albums lorded over radio and airplay countdowns, album sales charts, and concert venues in many parts of the world. But they never shared center stage up until now…
Simple Plan's post on its official social media page confirms "It's finally happening…It took almost 20 years, but we are really stoked to announce that we are heading out on tour this summer with our friends New Found Glory on the Pop Punk's Still Not Dead tour! This is the first time we've ever toured together, and we can't wait! We'll be playing all over the U.S. …so you know it's gonna be RAD!"
In a more recent post, Simple Plan has drummed up the excitement some more as they posted: "It's been heartbreaking and very difficult to be away from you for so long, and we can't wait until we can all be together again to experience the magical experience that is live music," the statement reads. "We know a lot of you are going through a tough time not being able to go to shows and missing the connection and sense of community and belonging that comes from standing in the middle of a crowd listening to your favorite band or song. We miss it too, so much. Let's all remember that we're finally starting to see the light at the end of the tunnel and that we will be reunited very soon."
New Found Glory formed in 1997 and has released ten studio albums, one live album, two EPs, and four cover albums to date. Their biggest hits include "Hit or Miss", " All About Her", "The Minute I Met You ", and more!
Simple Plan started out in 1999. They have released five studio albums that spawned the hits "I'd Do Anything," "Addicted," "Shut Up," "Welcome To My Life," "Perfect," "I'm Just A Kid," "Boom!" and "Jump".
Two incredible artists together in one stage is one epic experience not to be missed. Book your tickets now!