Fillmore Auditorium | Denver, Colorado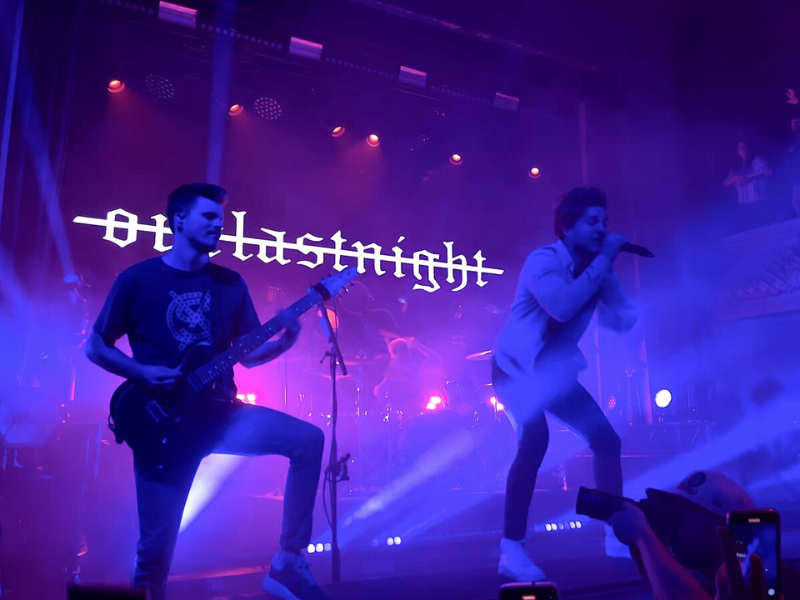 Rip into a musical banquet of hard-hitting covers on Wednesday, May 1st, with Our Last Night as they take over the Fillmore Auditorium! Kicking off in Houston, Texas, The Covers Only tour marks 25 city stops across the United States, bringing the band's thrashing tunes right to your doorstep! Its show in Denver, CO, will be held at one of the state's most immersive indoor venues, with special guests Broadside and Normandie. Our Last Night's discography, which dates back to 2004, showcases trendy pop music transformed into headbanging post-hardcore renditions. Some of their greatest hits have racked up hundreds of millions of Spotify streams and include fan favorites such as "Astronaut in The Ocean" and "hot girl bummer." Their latest album, Disney Goes Heavy, features "metallified" songs from classic Disney soundtracks: The Lion King and Encanto to name two. Our Last Night invites everyone to enjoy their musical madness, so click the button and get your tickets now!
Get ready for an ear-splitting start to your spring season because Our Last Night is going LIVE and WILD in Denver! The Covers Only national tour will travel from Houston to Atlanta, with twenty-three other cities in between, for a mess of musical mayhem never before experienced. Special guests Broadside and Normandie will open for most of the tour, including a much-anticipated visit at the Fillmore Auditorium on May 1st.
"Inspired by hardcore and metal, Our Last Night delivers an onslaught of taut thrashing riffs and intense hardcore breakdowns that meld perfectly with lush melodic landscapes and soaring, irresistibly catchy choruses."
Ever wondered what your favorite Disney song would sound like as a post-hardcore headbanger? Well, now you don't have to. Our Last Night carved its spot in the public consciousness by rendering popular pop music into soul-shredding arrangements. Brothers Trevor (vocals) and Matthew (guitar) Wentworth are joined by drummer Timothy Molloy to form the band, with bassist Sean Everett tagging in during tours. They have earned hundreds of millions of listens on online streaming platforms—notably Spotify—with smash hits such as "Astronaut in The Ocean," "Sunrise," and "hot girl bummer." Their recording history dates back to 2004 with the EP, We've Been Holding Back, up to 2022's Disney Goes Heavy album, featuring "metallified" versions of songs from Disney classics such as The Lion King and Encanto.
Special guest Broadside is a pop-punk band hailed by Alternative Press magazine as one of the 100 Artists You Need To Know in 2015. In recent years, they've turned heads left and right with their singles "One Last Time" and "Cruel" feat. The Home Team's Brian Butcher. Normandie, meanwhile, is a veteran rock group whose inventive songs such as "White Flag" and "Babylon" have captivated ears from across the globe, with millions of Spotify hits to show for it.
Take a potential peek at the concert's upcoming setlist from their Vyperfest appearance last September!
Astronaut in the Ocean
Same Old War
BURIED ALIVE
Last Night
Road to the Throne
Ivory Tower
abcdefu
Flowers
When We Were Broken
NO HELP
Iris
you broke me first
Graveyard
Sunrise
The Fillmore Auditorium, one of Colorado's largest indoor performance venues, will play host to Our Last Night and their guests during their Wednesday gig on May 1st, 2024. The venue projects an indie atmosphere that complements our headlining cover band, with immersive lighting to set the mood and reverberating acoustics to shake your body. Grab some friends, buy your tickets, and join the havoc soon!