Fillmore Auditorium | Denver, Colorado
Who do you trust when it comes to delivering nothing but hard rock, nu-metal, and rap metal? Rock metal in its fiercest from can only come from the legit acts that brought it to the fore sometime during the 90s. These bands are few and far in between. Papa Roach is one of the trailblazing bands that showed everyone what nu metal is really all about. As Papa Roach released its tenth album "Who Do You Trust", a tour is definitely in order. This album tour will bring them to various key cities, and yes, they're coming to the Fillmore Auditorium on Tuesday 27th August 2019. With their enormous loyal fanbase, tickets could sell out sooner than expected. The clock is ticking…start booking your tickets now!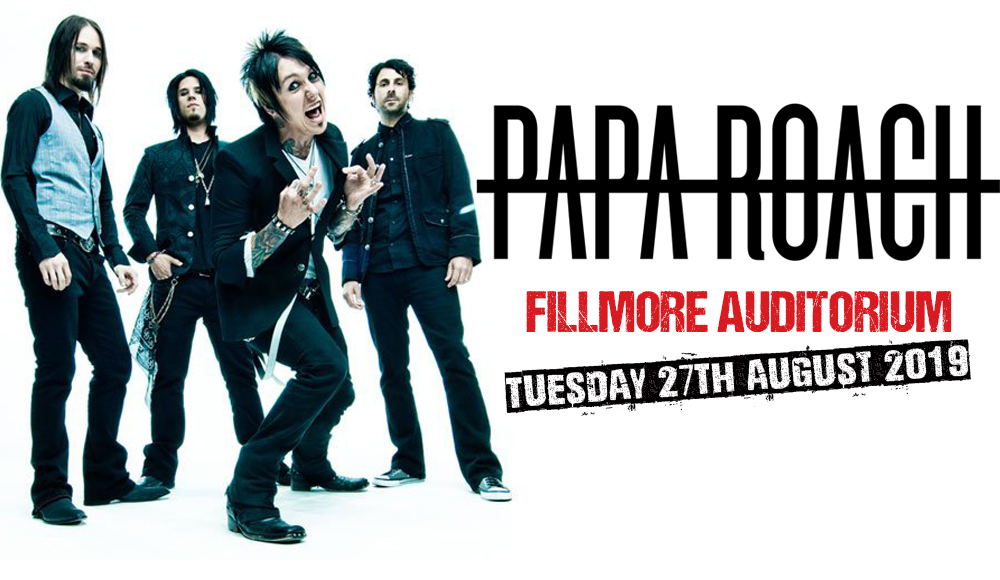 Papa Roach is basically a rock band, but they have gone beyond and explored the many facets of rock music until they unearthed a sound now branded as 'nu metal'. Formed in 1993, Jacoby Shaddix and drummer Dave Buckner founded the band and were soon joined by bass guitarist Will James and lead guitarist Jerry Horton. Papa Roach paid their dues so to speak. Much of their pre-mainstream-success-days were spent on gigs that started in school events and expanded onto being supporting and opening acts for bands like Incubus, Static-X, and Earth, Wind & Fire. These numerous tours became breeding grounds where they built their fan base. Then it was just a matter of time when they themselves broke out into the mainstream with hits such as "Last Resort," "Broken Home," "Between Angels and Insects," "She Loves Me Not," "Getting Away with Murder," "Scars," "Forever," and "Lifeline."
Now on their tenth album and after countless sold out shows, the band shared their insights of what they were experiencing then vs the state of their relevance now. "It's hard to, because the listeners nowadays have so much to work with. They can only do 10 seconds of a song at a time. So you've gotta try and capture the listener. I feel that we still do that," says drummer Tony Palermo. Jacoby added: "With great music and an even better live show. Something that's been an integral part of our careers. When we get up there and play these hits, people go, 'Oh fuck, I remember that from that year,' so we're now shaping up to be one of those legacy bands. We're becoming the soundtrack for some of these people's lives and continue to do so. We look at our demographic now and know there's a future for P. ROACH, because it's still thriving with this youth culture. It's all kids in the front row. Most of them probably weren't even born when our shit dropped."
A band like Papa Roach is indeed a tough act to follow. While they're at it, go and experience for yourself one of the bands who's responsible for bringing out one of the many facets of rock — nu-metal at its finest!