Fillmore Auditorium | Denver, Colorado
Are you ready for the ultimate holiday dance party?!? Then you'd be crazy to miss out on the Parade of Lasers 2017. The fifth annual show so far, this year features performances from Flux Pavilion, Protohype, Yultron, and PLS&TY with, of course, the famous dazzling light and colour show!! Catch all of this and more on Saturday 16th December 2017 at Fillmore Auditorium! Tickets are on sale NOW, so don't delay in getting yours – it's going to be the best thing you'll see before the year is out!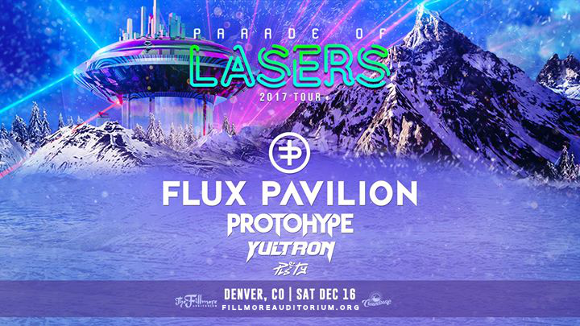 Headlining the night is Joshua Steele, better known as Flux Pavillion, hot off the back of his "Around The World In 80 Raves" 2017 tour. First earning recognition in 2011 with his single "Bass Cannon," which charted in the UK, he earned popularity for his remixes, with the remix for DJ Fresh's "Gold Dust," becoming a household name among bass music fans. With a sound inspired by Rusko and The Prodigy, his is one of the most recognisable sounds in dance music. With his live sets changing every time, fans never know what to expect – we can hardly wait to see what he's got up his sleeve for his performance at the Fillmore Auditorium! With an incredible lead up by Protohype, Yultron, and PLS&TY, the Parade Of Lasers promises to be a show you will never forget!!
What are you waiting for?? Book your tickets TODAY while you still can!!