Fillmore Auditorium | Denver, Colorado
Hail to the Prince! He may be a young Latino music royal but he's got the best of both worlds in his hands. Prince Royce is a Latino R&B music sensation who has also dared to take the challenge of bringing the Dominican Republic's bachata genre to the rest of the world to hear and experience. There are a slew of hot Latino acts out there, but Prince Royce has given it just the right amount of sizzle. Thus, it comes as no surprise as soon as he dropped the official announcement of his 2020 tour "Alter Ego", wires to show tickets started buzzing like crazy. Lucky you, he's driving by the neck of the woods to jump on the live stage of the Fillmore Auditorium on Thursday 26th March 2020. Prince Royce is a hot one, so book those tickets now!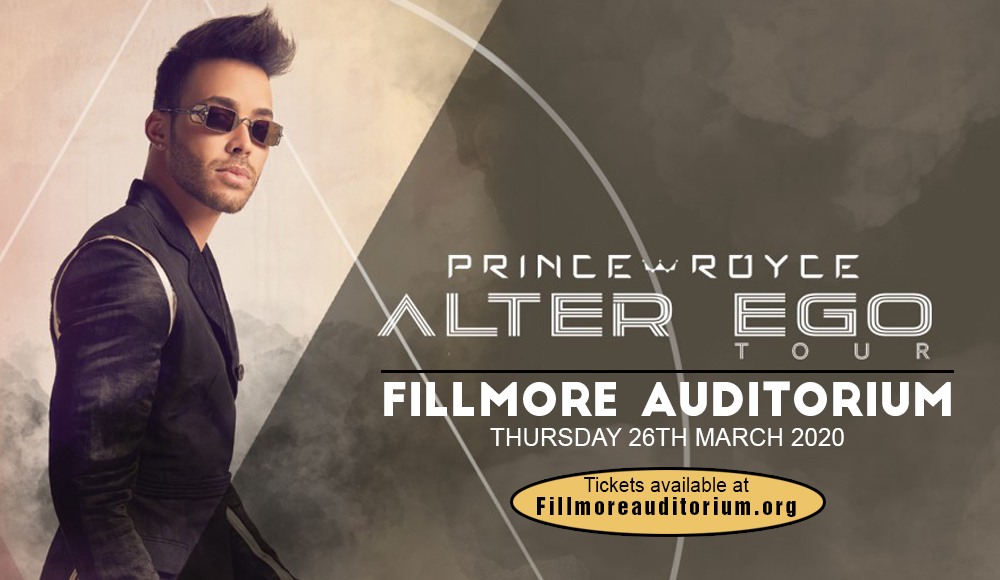 Bachata — a genre of music native to the Dominican Republic. With a dash of Latino pop and some R&B, Prince Royce has taken Bachata music to a whole new level. With his musical genius and innate charisma, Prince Royce took this relatively unheard of genre, Bachata, to the mainstream audience, and soon afterwards, he has reached the heights of unprecedented success in the Latin music industry.
It also started in March 2010 when Prince Royce released his eponymous debut studio album, which generated two commercially successful singles, "Stand by Me" and "Corazón Sin Cara". From there, his name went way up the heights of Billboard chart positions where both songs reached number-one on the Billboard Tropical Songs chart, while "Corazón Sin Cara" reached number-one on the Billboard Hot Latin Songs chart. The album itself reached number-one on the US Billboard Top Latin Albums and Tropical Albums charts. And soon afterwards, Prince Royce was up the Billboard Music Awards Stage, scooping up three awards at the Billboard Latin Music Awards in 2011, which included Tropical Album of the Year. His 2012 sophomore album release, which featured the singles "Las Cosas Pequeñas" and "Incondicional" also garnered a nominated for the Latin Grammy nomination for Best Tropical Fusion Album. And on July 2015, Prince Royce have yet penetrated a broader pop R&B market with the singles "Stuck on a Feeling" featuring Snoop Dogg and "Back It Up" featuring Jennifer Lopez and Pitbull, with both charting on the Billboard Hot 100.
With his burgeoning international career, Prince Royce exclaims, "I had envisioned this a long time ago so it feels right and very normal. I always had faith, almost a feeling of certainty that this would happen as long as I worked hard enough and focused on my music . . . now the overwhelming feeling is one of gratitude."
For his upcoming tour, Prince Royce is elated and is quick to add: "I'm doing the biggest tour over 40 cities, it's almost double the dates I did on my last tour and I'm really excited that I will visit places I've never been before."
Catch Prince Royce's 'Alter Ego' tour. It's now or never… book your tickets now!